Wicklewood Gun Dogs - Ohio English Cocker Spaniel, English Springer Spaniel, Labrador Retriever Breeders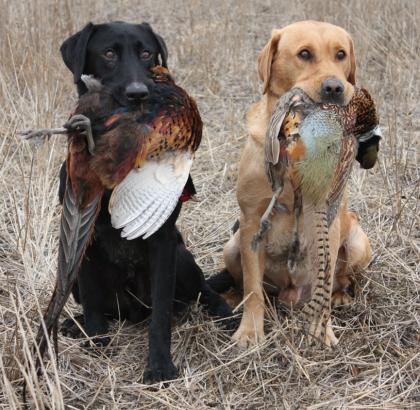 About Wicklewood Gun Dogs
Wicklewood Gundogs specializes in the
very best English Bred Gundogs: British Labradors, English Cocker Spaniels, and English Springer Spaniels. These dogs make excellent companion and hunting dogs.
In 1980, Bill Kechkaylo founded Wicklewood Hall with the mission to provide the very best British Labradors. Being a geneticist with many years of experience, Bill traveled to the UK regularly, attending field trials to find the English Labs with the genetic traits he was looking for. These traits include good conformation, temperament, soundness of body, hunting ability, excellent noses, low hip scores, clear eyes, and soft mouths. Unlike American Labs, these dogs are not trained with e-collars or "forced", they have very selective breeding to be the best gentleman's hunting companion naturally.

With the unfortunate passing of Bill, I have purchased the kennel with the goal to not only continue his excellence, but to add to it, both from the quality of our dogs to our guarantees and top level service. On the Labrador front, we will be adding several directly imported Drakeshead sires and bitches into the breeding program. We are also adding two new breeds under the Wicklewood banner, English Cocker Spaniels, and English Springer Spaniels. Like Bill's goal with Labradors, our Spaniels are selected by the best, and imported directly from the UK. We have several British national champions, and a handful of field trial winners and champions that will produce the best puppies.

On occasion, we will have started and finished trained Labs, Cockers, or Springers for sale. Our trainers are active in AKC and UKC hunt tests, and we have showed up to the American games and done extremely well with our English dogs. Our dogs also make great cadaver and bomb sniffing dogs.

I look forward to serving you now or in the future with the best dogs available – dogs that you will be proud of in the field, and a best friend for you and your family in the home.

Sincerely,

Jim Gilbraith
Hunting Dog Breeds Raised
English Cocker Spaniel, English Springer Spaniel, Labrador Retriever
Additional Services
Training, Stud Services, Boarding
Breeder Contact Info
Testimonials (3)
Submitted by: Paul Newell on Jan 08, 2011
My black lab is absolutely amazing he has a high drive in the field and is the nicest dog at home. His obedience is amazing. We use him for waterfowl and he does everything we ask.
Submitted by: Ned Finknstaedt on Oct 18, 2010
I have always improted my dogs directly from the UK; however, this time I decided to to purchase a started dog from Shannon and could not be happier. The dog has perfromed exactly as advertised adn has fit right in with my young family. We are thrilled with the service and support and recommend Wicklewood.
Submitted by: Dan Evans on Aug 17, 2010
It does not get better than this kennel for breeding quality and client relationship from beginning till end. Lifetime guarrantee and they stand by it. 10/10 Dan Evans , Canada
Submit your testimonial