Timoria Show Kennel - Ohio Wirehaired Pointing Griffon Breeders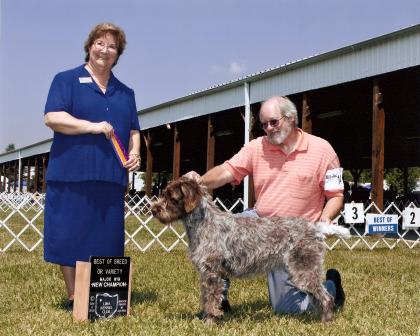 About Timoria Show Kennel
We've been involved with Griffons and B&T Griffs since they introduced us to the breed in 2006 and we now have many of our own. We have put AKC Championships on multiple dogs in that time and currently have one of the top show Griffs in the country. We are professional handlers at AKC shows as well as breeders of Bernese Mt Dogs and Tibetan Spaniels.
Hunting Dog Breeds Raised
Wirehaired Pointing Griffon
Additional Services
Stud Services
Breeder Contact Info
Testimonials (3)
Submitted by: Jon Kephart on Jan 12, 2020
Our Griffon "Fred" is 6.5 years old (Jan. 2020) and I am pleased to say that Jerry and Mary Jo Bish are the best to work with.
Submitted by: Jon & Tiffany on Dec 28, 2014
We picked up our baby Fred (fellow) in June of 2013. A year and a half later + and we are so pleased. Fred is the nicest, gentlest, smartest and most loving dog I have ever had. We researched the breed for about a year. talked to a few breeders. Timoria kennel helped us and kept us updated through pregnancy, whelping, up to the day of pick up and well beyond. We can't say enough about how great The Bish's are and how great our Fred is. Best family dog EVER and has natural hunting instincts. We have had up to 20 people visiting at once and most where kids. He greets and plays with a smile on his face. Griffon's just ROCK.
Submitted by: Pat Altherr on Mar 24, 2013
After extensive communication about breed characteristics, and two visits to the kennel , we purchased a Wirehair Pointing Griffin last July from Jerry and Mary Jo. Maggie is exactly the dog we wanted : active, intelligent, eager to please, seriously devoted to her family and athletic. Though we do not hunt, she displays her excellent hunting instincts daily on her walks through the woods. Mary Jo and Jerry helped us choose the perfect pup for our needs, and they were right on with their choice.
Submit your testimonial