T&P Chestnut Farm Retrievers - Ohio Chesapeake Bay Retriever Breeders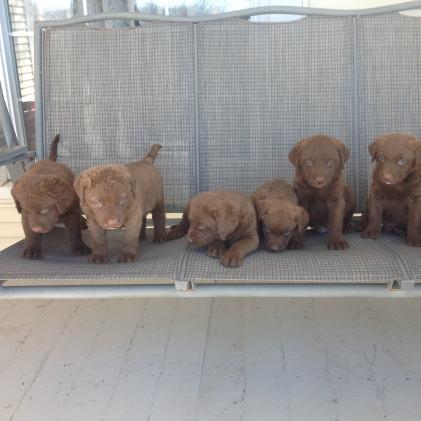 About T&P Chestnut Farm Retrievers
My husband & I are very fond of our CBR'S .We are a small breeder , we have two CBR Dams that we breed yearly. We also own our Sire, which has a very impressive lineage , our boy comes from the Rockrun Kennels of New York. Breedings are conducted to produce extremely intelligent CBR'S. We are a family of hunters, from our sons to our grandsons & great grandsons. We definitely are conscientious when breeding and what we are looking for from our breed. We are not big time breeders or trainers, We are a retired couple that love our Chessies ( all our Retrievers).This is our fourth year and our second breeding. We are also breeders of Labrador Retrievers for 20 plus years.
Hunting Dog Breeds Raised
Chesapeake Bay Retriever
Breeder Contact Info
Testimonials (1)
Submitted by: Bridget Droll on Jul 21, 2018
We purchased a chocolate male Labrador pup from T & P Kennels 5 years ago. He is one of our two studs and has produced awesome offspring. He has produced offspring that are big air and dock dogs, beyond over 20 offspring that are field trial duck hunting dogs. He has also produced a service dog for a young girl that has health issues, and the dog has turned her life around and she now can function in the world as normal as you and me. I would like to thank Terry and Pat for the wonderful bloodlines they have produced.
Submit your testimonial