Certainty Labradors - Ohio Labrador Retriever Breeders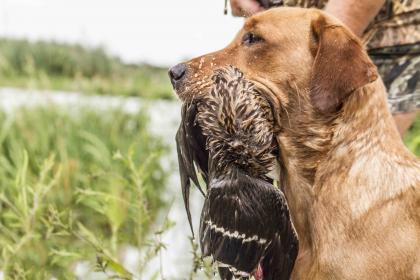 About Certainty Labradors
I breed quality Labs for hunting, hunt tests, and family companions. I run HRC and AKC hunt tests and I have recently dipped my toes in the show ring waters.

I do OFA clearances on hips and elbows. Cerf is done on eyes and we do EIC and CNM testing as well.

All our dogs are family pets as well as hunters and I raise my puppy litters in the house til 4 weeks of age, when they are then placed in a puppy kennel. They are socialized to household noise, people, kids, and other dogs. They are exposed to birds at 5 weeks old and to water, weather permitting.
Our Labs all have sound temperaments, are very intelligent and eager to please.

I believe in a Lab with proper conformation and the drive to do the work they were bred for.� I believe I am accomplishing this here at Certainty Labradors.

Hunting Dog Breeds Raised
Labrador Retriever
Breeder Contact Info
Testimonials (5)
Submitted by: Josh Hunt on Aug 17, 2012
My family purchased our fox red male (Remington) last year from Katherine. Words cannot describe how much Remington means to my family. It was my intention for Reminton to be just a family/hunting companion but I am afraid he has to much potential for that. He is a hunting,pointing, retrieving machine. He has the calmest demeanor in the world until it is time to go hunting then he snaps into serious mode and will not stop working. This dog is field trail material! Certainty Labradors is a family/dog friendly environment and Katherine was a very good person to do business with. It is totally out of my character to even submit a testimonial for something like this but I am afraid that my love for labradors has turned into almost an obsession and I have Certainty Labradors to thank for that! If anyone would like to talk to me about my experience with this breeder feel free to contact me @ at jjjhunt521@msn.com or call my cell phone 859-409-2069.
Josh Hunt
Verona, KY
Submitted by: ron guy on Jan 17, 2012
sabrina had a great season in the water, and she is just as good on land. If you want a hunting partner this is were to get it.
Submitted by: Samantha on Feb 10, 2010
We purchased a yellow lab 7 months ago and could not be happier. He has been retrieving perfectly, it seems like, since we brought him home. His prey drive is high and his temperment is perfect. He has the most personality I have ever seen in a dog. Katherine and Jesse were so great to us during the process as well. We had a long distance drive to their farm and could not visit before making our choice of a dog. They kept us completely updated through pictures and information about how each individual puppy did in hunting tests. It was great. When we decide to get another dog, we will be getting one from them again. We can't imagine our family without him.
Submitted by: Kimberly Wilkes on Dec 23, 2008
I purchased a yellow lab pup from Certainty last February for my husband for Valentine's Day and I can not say enough about the quality of the pup we received. She is VERY smart and LOVES to hunt. The most difficult facet is getting her to come back inside the house after she's been out hunting with dad! She loves birdies, water and him and she is good with our 3 kids (ages 7-13)! I (a non-dog fan, in the past) couldn't have asked for a better experience and a better dog!
Submitted by: Ronald Guy on Aug 31, 2008
I bought a yellow lab from them last year in December. She is a wonderfull dog that was house broken in about 3 weeks and retrieving in about 5 weeks. She is traning now for duck season and she is learning very quick. I would recommend their dogs to anyone that loves to hunt or just wants a good pet.
Submit your testimonial