Legacy Brittanys - Ohio American Brittany Breeders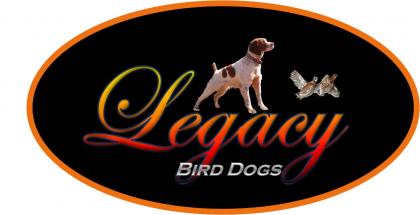 About Legacy Brittanys
LEGACY BRITTANYS
Hard Pointing Walking and Horseback Shooting Dogs.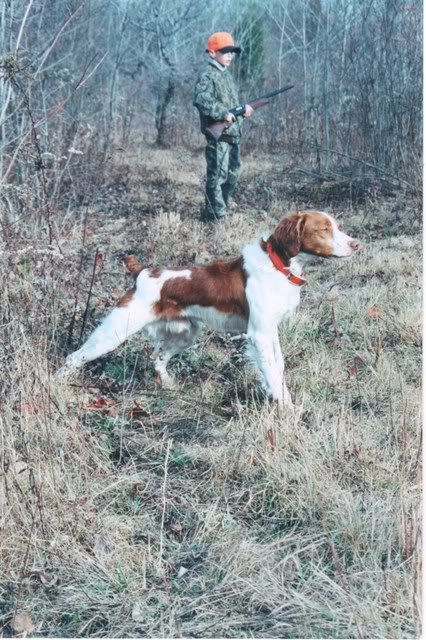 Hunting Dog Breeds Raised
American Brittany
Additional Services
Hunting, Fishing, Lodging, Meals, Training, Stud Services, Boarding
Breeder Contact Info
Our Pedigrees
Testimonials (5)
Submitted by: Vic on Nov 13, 2012
I purchased Otto, a Brittany in February of 2012 from the December 2011 litter. This dog at 10 months hunts as well as 2-3 yr old GSP. With 4 outings under his belt and 20 chukar/pheasant he holds point to wing and shot(Only 6 weeks of formal training and the pointing and holding he learned on his own). In fact the other day i thought we were done hunting and as i was packing up i called him and he didn't respond(he has a stubborness to him). I saw him about 50 yards away pointing and looking back at me as if to say, "hay what u doing im not done". I walked up with my gun kicked the high grass and saw nothing. Yet he didn't come as i walked back. So once again I went to him and sure enough a pheasant took off 5 feet from him. So what im saying is you need to trust the dog and these dogs from Legacy. For those who want a Brittany not for hunting he was house broken, knew stay, come, sit, whoa and down by 5 months of age. He does not jump or mouth strangers. Only regret is i didn't take a field golden with him which were also available for purchase(that's what happens when you are married)
Submitted by: susan koontz on Aug 20, 2012
One year ago we got a beautiful female brittany pup from legacy. we took her hunting to a pheasant, chucker, quail farm. it was a very windy day. she was 6 months old. she pointed all 12 pheasant, 6 chucker we were told there was another dog earlier in the day with 2 yrs experience and he only found 3 birds in that wind. Indy has turned out to be a wonderful hunter, definetly great insticts. thanks legacy
Submitted by: Dave Bramer on Jul 13, 2012
My wife and I got a female brittany this spring 2012 from Legacy. This pup is going to be a great hunter and family pet, her hunting instinct is very strong. I would say stronger than any other britt or lab I have had before. I would go back to Legacy Britts for another pup again. Thanks again Jim
PS We are feeding them raw and she loves it.
Submitted by: Andy & Connie Grear on Aug 03, 2011
My wife and I traveled from Philadelphia to Ohio this summer and were fortunate to cross paths with Jimmy Johnson and his wife Jill owners of Legacy Brittanys. We purchased a female field golden after spending a few hours with Jimmy and one of his children playing with the puppy and getting some valuable puppy training. I know I'm biased but our dog Sadie is incredibly smart and so loving. She is a most wonderful addition to our family. I recommend Legacy Brittanys to anyone considering a field golden. Go check out the parents and you'll know just what I'm saying.
Submitted by: Kim Turner on Jan 22, 2011
My husband and I traveled all the way to Ohio from Mobile, AL to select one of Legacy's Golden Retriever pups. The breeder was extremely hospitable and very knowledgeable about all breeds of dogs. At eight weeks, the puppies were almost house trained, and I swear our pup knew how to "sit" before we took him home with us. We've had "Major" for almost a month. He is one of the smartest and well behaved dogs we've ever had. He is sooo easy to train. We've received compliments everywhere we go. My family and I will forever be grateful to Legacy Brittanys for such an awesome dog.
Submit your testimonial