HORSES & HUNTING DOGS - Ohio English Setter Breeders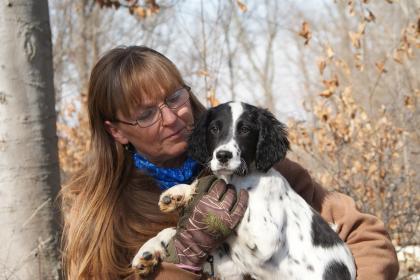 About HORSES & HUNTING DOGS
I breed English Setters and train gun dogs of all kinds. I breed for temperament and talent in the field. Our goal is to train your dog to be the best it can for you in the field, and make your hunting memories the best they can be.
Hunting Dog Breeds Raised
English Setter
Additional Services
Hunting, Training, Stud Services
Breeder Contact Info
Testimonials (4)
Submitted by: mike morad on Dec 12, 2017
Bought my English setter pup from Carol and could not be more happy! She was awesome to deal with and kept me up to date all along the way right until we picked him up! He has been a joy so far and its only been a little over a week! i cannot recommend her enough if you are looking to buy a great puppy. I cannot wait till we can get him out in the woods and start kicking up some birds!! I would definitely buy another dog from carol in a heartbeat!
Submitted by: Mark moore on Nov 27, 2017
Submitted by: Lisa Rauh on Sep 17, 2013
I have purchased two pups from Carol within a year both are extreme hunters! they are both bird crazy I have a male and female I wouldnt take any amount of money for either one great, great, family dogs!They are both very athletic and very smart! It was a great decision both times to purchase these pups from Carol hope to buy more in the future thanks Carol for such great dogs!
Submitted by: D. Jason Mummert on Sep 09, 2013
We have one of Carol's English Setter pups from her litter last year, and we're very happy. He has a great temperment, and does good in the field. Believe me when I say she breeds some great English Setters!
Submit your testimonial