Hi-N-Kennels - Ohio German Shorthaired Pointer Breeders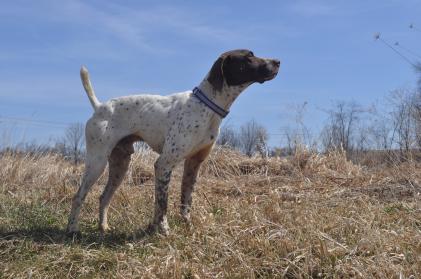 About Hi-N-Kennels
We offer several litters a year & occasionally started/finished gun dogs. Stud service is also available. Hi - N's Feed Jake is now 2014 NGSPA National Amateur Shooting Dog Champion, Field Champion & Amateur Field champion. Stud fee $600. Contact Hank for more info. 330-936-2649
Hunting Dog Breeds Raised
German Shorthaired Pointer
Additional Services
Stud Services
Breeder Contact Info
Our Pedigrees
Testimonials (4)
Submitted by: Garret on Nov 03, 2015
We bought our pup Dozer from Hank in August 2015. Hank took the time to show us his kennels, the dogs and it was clear why his dogs do so well in the trials and in the field. At 2 months, Dozer was birdy and now, closing in on 5 months he is already retrieving and pointing birds. I can't think of anyone I'd rather work with when i comes time to selecting your next pup- Hi-N-Kennels is the only choice in my opinion.
Submitted by: Riki Meyer on Oct 19, 2015
We bought a male puppy from Hank. Our puppy "Hans" is only 3 months old, but he is such a smart, healthy pup! Hank was so welcoming, he took us out and showed us how our puppies parents hunt, and what the GSP is born and bred to do. It was an experience, not just going to buy a puppy and leaving. We really appreciated Hank's insight and knowledge of the breed. He has also been available for further questions as they have come up about the breed as this is our first GSP. When the time comes to get Hans a little brother or sister, we will be calling Hank!
Submitted by: Marty DEnney on Aug 12, 2008
I would highly recommend you give Hank and his outstanding gun dogs at Hi-N-Kennels a seriously look. I picked up a pup from him in March of this year and all I can say is I am EXTREMELY PLEASED!!! This pup at 6 months of age is doing it all and has done everything I have asked of her. Of all my years dealing with gun dogs this has been the easiest to train by far. My pup was consistently pointing quail at the age of 5 months with little effort, retrieving to hand, whoa on command, shake on command and sit on command. This dog loves to please and is eager to hunt. Her drive is outstanding. Again, I could not be more pleased with my pup.
Submitted by: Tom Peel on Apr 30, 2008
I'd recommend Hank's dogs. I picked up a female pup last year. She's 10 months old now and basically finished. Tremendous drive and pointing instincts, retrieves to hand, etc. Also, we decided to keep her in the house and for a very hot hunting dog she has done well. Coming from Iowa and seeing my share of dogs, she will hold her own with any of them.
Submit your testimonial