vom Gänsehimmel - North Dakota Deutsch Kurzhaar Breeders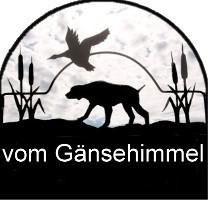 About vom Gänsehimmel
My name is Rick Hartle and along with my wife (Jan) we run a small Deutsch Kurzhaar kennel in North Central North Dakota. We are located in Grano, North Dakota near Lake Darling Wildlife Management area. Our first Deutsch Kurzhaar litter was whelped in the Fall of 2001. This litter was out of Hella vom Eichelspitz. As our kennel name we chose vom Gänsehimmel (goose heaven or goose skies) since we are on one of the major migration routes for waterfowl.
We also have an adult female Ilka vom Osterberg, which we used to help develop the DK's that we have.
Since being formed in 2001, we have learned a lot about the Deutsch Kurzhaar and have developed a sound program for us to operate with. I will not breed a litter that I would not want one of the pups myself. This means we don't have a lot of litters, and that we look hard at what we are doing. We breed in the fall and winter so puppies will be the best age for the next fall hunting season. Check our current breedings.. http://vomgansehimmel.com/Planned.htm
We started breeding with dogs they have primarily Osterberg and Pöttmes bloodlines. We are finding strong abilities in these dogs, and easy to work with. They are meant for the everyday hunter and first time handler. Requiring minimal training to hunt the first year, and easy for somebody to handle that wishes to run them in hunt test. Because of this we try not to breed dogs with high prey drive, instead look for a combination that will suit the average hunter. We are now into 3rd and 4th generation dogs and are happy with the dogs. We are producing natural retrievers, great noses, and steady dogs, with great conformation. I am happy that we can produce a dog that most average people can hunt with the first year.

Our Deutsch Kurzhaars are meant to be in line with what the German's original reasons for developing the Deutsch Kurzhaar a versatile gun dog (one that can do any hunting task) and still be a joy to have in the home. We do not wish to produce a dog that is meant to be in a kennel and not part of the family.
We do not have AKC bred dogs. We do not agree with the AKC thought of what a breeding is and will not contribute to this style of program. We embrace the German system which involves proving each dog and generation. They must be proven in their abilities and form, this is done through testing of field abilities and conformation testing. Our goal is to test each dog to the highest level possible giving us the best indicator of each dog's ability. The dogs are also ran in conformation test which is not only a DKV requirement but also important to us helping us to see the short comings in our dogs as well as their strengths.
.
Hunting Dog Breeds Raised
Deutsch Kurzhaar
Breeder Contact Info
Testimonials (0)