R&R Shorthairs - North Dakota German Shorthaired Pointer Breeders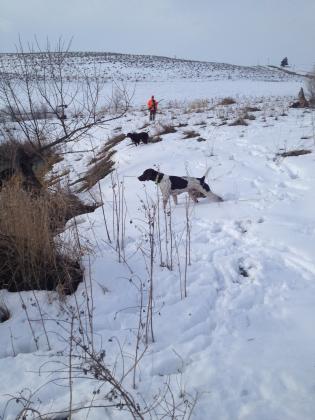 About R&R Shorthairs
We have owned German Shorthaired Pointers for many years and love these dogs. As a former pheasant hunting guide business in SD we've worked and trained a lot of these dogs. We are offering some of the best bloodlines in the country.  Our dogs are not only incredible hunters, but wonderful family pets with mild dispositions.  We decided to breed these dogs because we are trying to develop some of the best close working hunting dogs available.  These dogs have some of the best pedigrees anywhere in the country. Duke and Elly were already very accomplished hunters at only 1.5 years old. The kennel we got Duke from paid an extra $500 for the breeding rights but we are not restricting breeding rights for his pups.
Hunting Dog Breeds Raised
German Shorthaired Pointer
Additional Services
Stud Services
Breeder Contact Info
Our Pedigrees
Testimonials (1)
Submitted by: Bryan Weinzierl on May 11, 2015
Thanks, Rod!
Picked up Browning yesterday. Great pup, got to meet his parents, very impressed.
Browning has already become part of our family.
You guys breed and raise puppies like it should be done!
Thanks again for our new addition to the family.
Submit your testimonial