Northern Star Brittanys - North Dakota American Brittany Breeders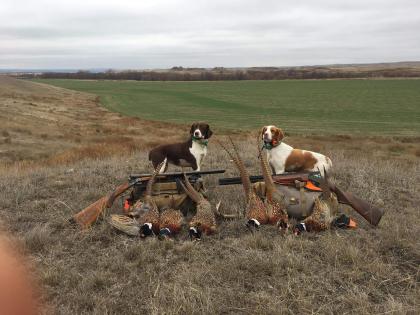 About Northern Star Brittanys
Northern Star Brittanys is located in central North Dakota, an area that boasts some of the finest pheasant hunting in the country.� Our foundation female was Bullet's Northern Star, a direct daughter of��Nolan's Last Bullet and a frozen semen daughter of��Renegade's Kansas Kid.� Star was a tremendous wild bird dog and my best friend who gave me a total of five beautiful litters of pups. Her offspring were consistent in type and quality and those characteristics continue to come through each generation. Star's daughter Lacey was an important part of our breeding program. Northern Star's Diamonds & Lace - Lacey was sired by GCH DC Masked Jack of Diamonds and was my keeper pup from Star's final litter in 2013.� Lacey was a beautiful girl who inherited the best of both parents and was everything I strive to produce in my breeding program. She was a gentle, sweet girl in the house but all business when you hit the field and competed in NSTRA and was used as a guide dog on hunting preserves in Kansas. Lacey produced three beautiful litter of pups for us before her untimely death from Nocardia in February 2019. We are blessed to have two of Lacey's young daughters here to carry on this wonderful bloodline and tradition. From Lacey's second litter whelped in 2017 we kept a female pup nicknamed "Kat" - CH Northern Star Katch Me If You Can. Kat is sired by DC Schonhund Winning Wager who is a grandson of Shambo's Dark Shadow. Kat is a beautiful liver and white female who easily earned her show championship under the hand of Jessica Carlson this summer. Kat spent fall 2019 concentrating on birds and being broke out. She is a stylish, bird crazy girl and we will have fun doing some hunt tests and NSTRA in 2020. From Lacey's third litter we kept a rambuctious female pup we called Sam. Sam's litter was whelped 5-31-18 and was a breeding of a lifetime for me using frozen semen from 10X NSTRA HOF Windswept's Clay Bullet - littermate to 32X NSTRA CH and NSTRA & ABC HOF Nolan's Last Bullet. Sam is a tall, leggy female who is everything I hoped for when doing this breeding. She loves birds and shows a lot of boldness and independence and will start competing in NSTRA in spring 2020 with Kevin Stonehouse in Kansas who we co-own Sam with. We are also proud to co-own "Jack" aka Double Shot of Jack Daniels. Jack is a littermate to Lacey and currently lives with our good friend, Kevin Stonehouse in Clay Center, KS. Jack is an outstanding bird dog as well as a NSTRA Champion. Where Jack really shines is as a wild bird dog and is the lead dog on Kevin's guide string. Jack is available for stud at private treaty and has sired 4 very nice litters from bitches from different lines.
Hunting Dog Breeds Raised
American Brittany
Additional Services
Stud Services
Breeder Contact Info
Testimonials (5)
Submitted by: Rick Lee on Jan 21, 2019
Lisa is absolutely fantastic, getting a pup to Hawaii is no small task and she was with us every step of the way. And yes, the dog can hunt!
Submitted by: Trent Besse on Jan 10, 2016
I purchased a puppy from this breeder in 2012 and couldn't be happier. Chief is an outstanding gun dog and I couldn't be more pleased with him. Lisa is a very conscientious breeder and all around great person. Highly recommended.
Submitted by: Timmy Suggs on Dec 17, 2012
I found Lisa a pleasure to work with. She is very very knowledgable of the Brittany and I am glad to have her as a new friend and resource. Her Brittanys are World Class with none bred better. Her kennel is definately worth strong consideration for anyone looking to improve their kennel.
Lisa, thanks for everything.
Timmy Suggs
Submitted by: Roger Acuff on Mar 14, 2012
"Duck" a three year old out of "Star" just won UFTA RU National Amateur Ch. in Feb.(180 dogs), he is also an UFTA Amateur ch. and UFTA Open Ch. His future is all ahead of him one of the top Brittanys in the country. Looking forward to another pup out of "Star", she is a great producer.
Submitted by: Roger Acuff on Jun 18, 2010
I own a male out of last years breeding whose call name is "Duck". He placed 4th three times last year in UFTA trials and didn't retrieve. Since then he has been force broke to retrieve and we are excited about this coming fall. He breezed through his Jr. Hunt Test with 6 fines in less than 10 minutes. Ran out of blanks and the judge asked me to pick him up.
Submit your testimonial