Koepplin Cockers - North Dakota English Cocker Spaniel Breeders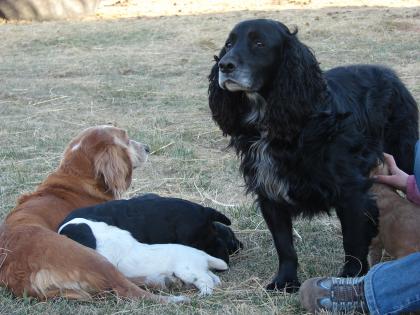 About Koepplin Cockers
Koepplin Cockers
The Koepplin family lives in beautiful central North Dakota, where the wildlife is plentiful. We raise top quality, Field Champion English Cocker Spaniels. Our trio of dogs are our family dogs, as well as hunting companions. We pride ourselves on raising the best hunting dogs and family companions available. We have references available by request. Our past litters have turned out fantastic, we have a great breeding program. We have pups competing and winning. We usually have a wide variety of colors to choose from. We have recently added another female to our family. Check out our website for pedigrees and pictures, or give us a call, we would love to tell you about our fantastic dogs!
Hunting Dog Breeds Raised
English Cocker Spaniel
Additional Services
Stud Services
Breeder Contact Info
Testimonials (4)
Submitted by: Barb on Jun 19, 2013
Working with Karen has been wonderful! We got our first pup from her in 2006 and are getting ready to get our second pup in a few months (2013). We've spoken to many other breeders, including some that are much closer to us in location.....but after a lot of research, we are confident that the Koepplin Kennels is by far the best place, and in my opinion, the only place to get an English Cocker Spaniel.
Submitted by: Trevor Hausauer on May 04, 2010
Karen, Todd and the entire family love these dogs and are great to work with. They give a timely response to emails or phone calls and are always friendly. Gadge shows a ton of natural ability and has proven himself by hunting an entire season beginning at only 6 months of age. He is now just over a year old and has so much personality and love. Koepplin Cockers continues to stay in touch with us even now. I would highly recommend them to anyone.
Submitted by: Tracy on Jun 10, 2008
Karen is FABULOUS and so are her dogs. I was not quite ready to get a puppy, just looking but I fell so in love with Karen and her puppies that I had to have one. I did alot of research and talked to numerous breeders, by far Karen was the NICEST to deal with. Her puppies are so much more than just cash to her. When Clover got off the plane I could not believe how gorgeous her coat was. She is an amazing dog. Karen takes great care of her dogs and socializes them with children at an early age which was so important to me. I can't recommend her enough. SO EASY to work with.
Submitted by: Wendy Ruud on Apr 04, 2008
What a wonderful breeder to work with - kept us informed on arrival of puppies and sent updates/photos often before we received her. Abby is now 9 months old and is a great companion with her nose to the ground all the time. She is doing great in training and has a wonderfully comedic personality. I also have small nieces and nephews between the ages of 1 and 5 that visit often. Abby was very gentle with them right away with out discipline - a show of her breeding background. I highly recommend Koepplins
Submit your testimonial