DAKOTA POINT KENNEL - North Dakota Epagneul Breton, French Brittany Spaniel Breeders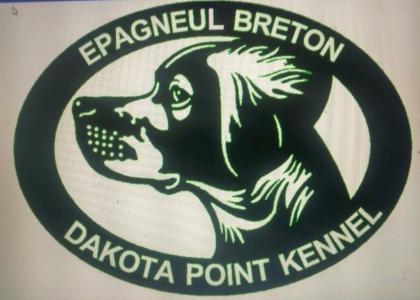 About DAKOTA POINT KENNEL
Breeding French Brittany's about one litter a year or sometimes two. We breed dogs for upland hunting and good family dogs. We welcome anyone who would love to take there dog to the next level with field trials. We have had French Brittany's for 12 years but only started breeding 9 years ago on a small scale. We love the breed and continue to improve the breed with our breeding program. These dogs hunt hard for a little dog and have a drive that won't quit. There heart is to please there master and love there families that is why we love these dogs. Our dogs are lovers in the house and beasts in the field. Our dogs are part of our family. So yes they do sleep on the bed with us but yet are kennel trained also. We hunt and train all of our dogs. Our dogs get to hunt for the youth in our community through Pheasants Forever. Our dogs hunt close and point by there natural genetics that is breed into them. We have quality dogs that makes training a big help when it comes to hunting. We have repeat customers because of the genetics we provide. If you want a dog that hunts hard and is a good house dog during the off season from hunting please look at our Kennel.

Hunting Dog Breeds Raised
Epagneul Breton, French Brittany Spaniel
Breeder Contact Info
Testimonials (4)
Submitted by: Dennis on Sep 18, 2020
We had a wonderful experience with Chris. Started with a chat about dogs and hunting and I could tell right away this was the way to go for us. Since we Are 10 hours away We needed help choosing A pup and he was supportive of our questions , photos, videos and patient with our time to choose. Finally when we picked up our pup and brought her home she is amazing , incredibly smart, desire to please and an amazing loving personality. We couldn't be happier with Chris and helping us through process of adding our new family member. I highly recommend him and his dogs.
Submitted by: Kellie Kallenbach on Aug 04, 2020
We got a puppy from Traci and Chris last September and have been extremely happy with our choice. She came from wonderful people who truly care about their dogs and were so helpful with any questions we had.
We get lots of comments on what a beautiful dog she is and we love her size. She fits perfectly in our family. We are looking forward to hunting her this fall.
Submitted by: Tim Treib on Apr 15, 2020
Rusty is now going on Five. He is exactly as described by this family owned business.
His dogs are great family dogs, he has a great hunting instinct (wish I had time to use it more).
If I ever make a choice to own another dog , I will be talking to them!
They followed up to make sure Rusty was doing well.
I also appreciate the time and effort they put in to ensure there dogs, go to a household that is a good home for the animal.
Submitted by: Phil Rogers on Jul 30, 2019
It is my pleasure to write this testimonial. I have known and been friends with Chris and Tracy for over a year. We have collaborated on 2 litters now and the results speak for themselves. They are tremendous handlers, breeders and lovers of the Epagneul Breton breed. Just the kind of folks you like to be affiliated with. You will see the love and caring of their litters are above reproach.
Picking a pup from them is a sure thing. I wish them all the luck now and in the future.
Submit your testimonial