ADVENTURE BOUND GUNDOGS - North Dakota German Shorthaired Pointer, Labrador Retriever Breeders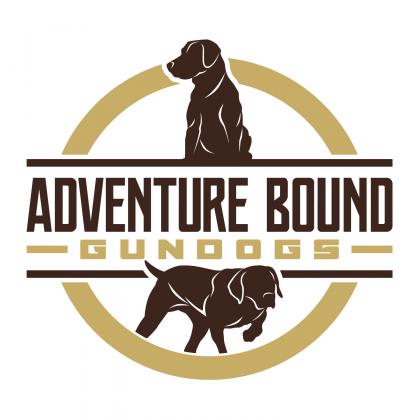 About ADVENTURE BOUND GUNDOGS
Adventure Bound Gundogs is a medium sized kennel located on the prairie in South Eastern North Dakota. This is a full time business that goes to great measures to care for the animals and ensure that you are getting the most socialized and healthy puupy that money can buy. We feel that we provide you with a excellent quality puppy at a fair price so that everyone can enjoy the benefits of a well bred dog. We pride ourselves in customer service and the fact that when you purchase a puppy from us you are not only getting a dog that will excell in the field and as a pet, that you are also getting a dog with extremely good looks that you are proud to have at your side and one that has a very calm disposition and not hystrung. We prefer to deliver your puppy to you ourselves but on occasion we do fly your puppy to you, the price is the same either way. Each puppy comes with Full AKC registration, health record, current vaccinations, dewormings, 2 year written health guarantee and a puppy care package. If you are intrested in adopting a puppy from us or if you have any questions; feel free to call or email. 701-793-4586
Hunting Dog Breeds Raised
German Shorthaired Pointer, Labrador Retriever
Additional Services
Training, Stud Services, Boarding
Breeder Contact Info
Testimonials (5)
Submitted by: The Hurst on Apr 26, 2012
We got our dog at Christmas in 2009 - Magic - Black Labrador.
He is one of the most beautiful and strongest labs I have ever had.
He smart - and has shiny coat, and very lovable and energetic.
He hasn't had any health issues and bonds with people and dogs easily. What a great decision it was to buy from this kennel, they are the best!
Submitted by: Beth on Dec 24, 2010
I cannot begin to even do our lab justice in words, but I will try! Our little Sula is about eight months old now and is a chocolate lab. My husband loves labs and I had always been indifferent regarding them. We sought out breeders and settled on Adventure Bound Kennels. This amazing dog that we have has not EVER been the typical wild lab. She has the most gentle, loving, and loyal temperament. She has yet to chew anything she is not supposed to, only had a few accidents in the house initially, and plays so well with our German Sheperd. At four months of age, she would run with other dogs and as soon as we would call her name, she would halt, turn around and come straight to us.
The breeders were also extremely easy to deal with. They DROVE the dogs from North Dakota to Tennessee! They are very dedicated to the dogs and we can't wait to get our next lab from them.
BEST experience!
Submitted by: M Champagne on Apr 23, 2010
We got our chocolate lab, Koko, from Heather almost two years ago. We are so pleased with our decision to go with Adventure Bound Gundog Kennels. Koko has been a fantastic addition to our family. He's smart, energetic, has a great temperment, and is wonderful with our two young boys. We were also very impressed with Heather's dedication to the dogs as she delivered Koko to our home in CT personally.
Submitted by: Lisa Zadrozny on Jun 01, 2009
I bought my chocolate lab from Heather 3 years ago. Dakota is our third labrador retriever and by far the best. Her hunting ability is incredible and she is the best family pet;
she has a great temperment and is very loving.
Thank you for the best dog I have ever owned.
I hope to get a friend for Dakota in the next year or two.
Submitted by: Haren Heller on Apr 02, 2009
We just got Riley from Heather and Chuck. They were fair, honest, and very helpful. Riley is so adorable, every one stops us on the street to pet him and say hello. Not to mention how sweet and very smart he is. He has learned sit and lie down in the two days we have had him. And he is such a love bug. The vet we saw today said he is in good heath and he will be big. Thank you, Heather and Chuck for the great breeding and the helpful words of wisdom.
Submit your testimonial