Windswept Ridge Brittanys - North Carolina American Brittany Breeders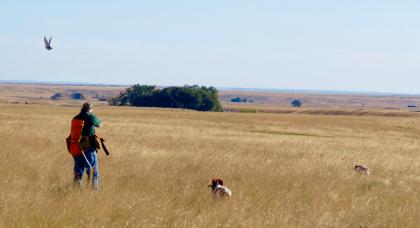 About Windswept Ridge Brittanys
I�have been raising and trialing brittanys for 25 years.�We hunt all types of upland game birds�throughout the US.�
My line started with NSTRA HOF Windswept's Clay Bullet which is a littermate to Nolan's Last Bullet. We will have puppies through out the year and occasionally a started dog.
We also have 3 excellent dogs at stud,�Windswept Willis' Doctor "DOC" a NSTRA Champion, Windswept's Cisco Willy "WILLY", a two time NSTRA Champion, and Windswept Ridge's Red Ramsey "RED" a hard running�bird finder�with plenty of style and one of the best wild bird hunters we've ever had the pleasure to breed. Health & Vaccines: Our puppies will be wormed at 3, 4, 5 & 6 wks and will be vaccinated with their first puppy vaccines. Breeder is a veterinarian and the puppies will have a clear bill of health. 30 month guarantee provided for hips or genetic issues.
Hunting Dog Breeds Raised
American Brittany
Additional Services
Training, Stud Services
Breeder Contact Info
Our Pedigrees
Testimonials (1)
Submitted by: Mike Walker on Dec 22, 2013
I purchased a 2 year old dog from Doc Ramsey, which quickly became a member of our family and an impeachable bird dog. I have just recently returned from S.Dakota (12/20/13 ) with 5 dogs and Woodie out shinned them all. Thanks Doc. Mike Walker Lewistown Mt.
Submit your testimonial