Tar River Retrievers - North Carolina English Cocker Spaniel Breeders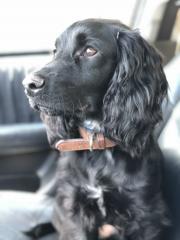 Hunting Dog Breeds Raised
English Cocker Spaniel
Additional Services
Hunting, Fishing, Lodging, Meals, Training, Boarding
Breeder Contact Info
Puppies for sale
Testimonials (5)
Submitted by: Dale Delaney on Jun 11, 2019
One of the best in the business. Simply knows dogs. Has an amazing training facility and has some of the best pups I've seen.
Submitted by: Sherry Martin on Jul 18, 2017
I bought an English cocker from Jeff and Tar River Retrievers. I amazed at how smart these dogs are. I followed his directions and in 2 weeks my pup is potty trained and sleeps all night in crate. I would highly recommend this breeder
Submitted by: Victor Wade on Sep 16, 2015
I bought a english cocker puppy from Tar River Retrievers. I honestly can say this is the best dove dog I have ever had. I recommend them to anyone looking for a pet or hunting companion. Very Very professional and takes time to explain any questions you may have.
Submitted by: lee gaylord on Mar 09, 2014
I took my 6 mth old Boykin Spaniel to Tar River Retrievers and was fully amazed at the facility and training that was provided. I would definitely recommend this breeder/trainer to anyone.
Submitted by: Meredith Ross on Mar 09, 2014
I got my English cocker puppy from Tar River Retrievers. The facility is extremely clean and well maintained. I will definately be taking my English cocker when she is 6 mths. Please take time to visit his website.
Submit your testimonial