Ruff House Kennels - North Carolina Labrador Retriever Breeders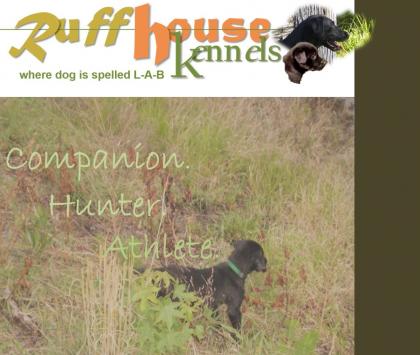 About Ruff House Kennels
The Labrador Retriever. It has become America's favorite dog because of its intelligence, character, and drive. But by many standards, it has become just another dog. At Ruff House Kennels, we have noted a demand for Labs that simply have those qualities that made the Labrador Retriever great. In fact, we ourselves are part of that demand. It is our mission to produce pups that will become the next generation of companions, hunters, and athletes. Yes, they may be "just another dog," but try finding better.
Hunting Dog Breeds Raised
Labrador Retriever
Breeder Contact Info
Testimonials (2)
Submitted by: Ashley Scott on Jan 27, 2010
My name is Ashley, I recieved a lab from a friend who purchursed they dog from Ruff House Kennels. We named him Backwoods Gunny. He was born on Aug 2,2007. This is by far the smartest dog I have ever had. He has been dove hunting and has also helped tracked deer. Gunny has become a really big part in my family and he is the best companion!
Submitted by: Luke and Lauren on Jul 29, 2008
We recently purchased a lab from Curtis. This was the best buy for the amount of time and effort that was put into a dog. We named him, Goose. Goose is the smartest dog and whatever you command him to do, he does. There is no question that he does this for the love of training dogs. The dogs come from a great blood line and he has some great pups for sale. He is only selling them for $200.00 and they are worth at least $450.00. You can not beat these dogs, they are all AKC registered dogs. I highly recommend you to check these dogs out, for the money you really can not beat it!!
And we only payed $500.00 for Goose, he is only a year and a half old and very well trained. He is almost finished. We have looked for a good buy and by far this is the best. For a dog trained to his ability anywhere else are at least $1,500 PLUS.
Thank you so very much for being such a devoted handler and honest trainer. You told us the dog exact capability of Goose.
-Luke and Lauren
Submit your testimonial