RIVER HAVEN BRITTANYS - North Carolina American Brittany Breeders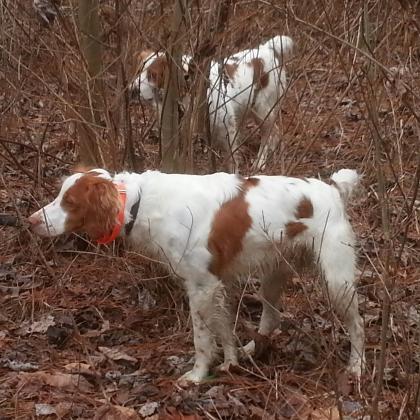 About RIVER HAVEN BRITTANYS
River Haven Brittanys is located in northeastern NC outside of the town of Hertford. We specialize in American Brittanys and our goal is to produce quality bird dogs and loyal companions.

Our dogs come from the lines of Hall of Fame Inductees, National All-Age Champions, National Gun Dog Champions, US Open Brittany Champions, IAMS/Purina Award winners, Magnum Masked Man Award winners and Tri-Tronics Award winners.

Most of our dogs are the sons/daughters of National Champions, Runner-Up National Champions or producers of National Champions. They all have exceptional pedigrees that include the following notable dogs in their first three generations:
Black Creek Deacon, High Hopes Dark Nite, High Hopes Fly By Nite, Magnum High Velocity, Spanish Corrals Sundance Kid, Sniksoh Little Rascal, Hi Points Betn Hell Rock, Chicks Blazen Sawtooth Sam, Nolans Last Bullet, Just Call Me Roy, Renegades Kansas Kid, Gamblers Ace in the Hole, Betn Shell Fly, High Hopes Tars Dot Com, The Time Machine, Maxwells Blew By You II, Piney Run Sam, Beans Blaze and Scipios Little Chick.
Check out our males and females on our website at www.riverhavenbrittanys.com. Each dog has their own page which includes pictures, descriptions and pedigrees.

We have 2-3 litters of pups per year. All of our pups have their tails docked, dew claws removed and are current on age-appropriate vaccinations. Our pups come with a written health guarantee for genetic diseases, vaccination records, AKC registration papers and an AKC litter certificate. Please check the "Current Litter" page on our website for available pups.

We produce started dogs occasionally. Please check the "Started Dogs For Sale" page on our website to see if we currently have any available.
Hunting Dog Breeds Raised
American Brittany
Additional Services
Stud Services
Breeder Contact Info
Our Pedigrees
Testimonials (0)