Phoenix Mountain Kennel - North Carolina Llewellin Setter Breeders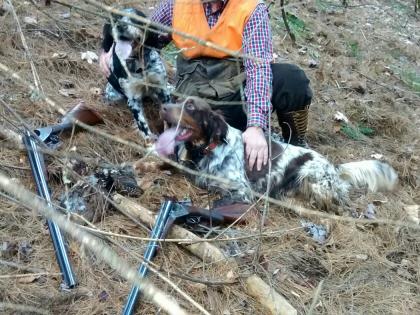 About Phoenix Mountain Kennel
I will have a litter of Llewellin Puppies due 7 August 2017...my llewellins are 100% DNA certified and FDSB registered...my dogs are a good hunting stock...they are regular grouse hunted...My Annie Bell is from dasing boundhu and strait creek blood lines...Bigfoot Josh is from strait creek, bondhu with a touch of blizzard blood line.. If you're worried about names both include dashing iron mike and Ike highstyle bondhu bandit ... My dogs are known for their close working and natural grouse hunting abilities...they are field dogs or pour quail out of a feed sack dogs ... They work at 10/20 yards in heavy cover and 20/38 yards in more open woods ...we could take the total 54 grouse this year around 29 woodcock and I'm not a fantastic shot with a shotgun... (1)..I'll be glad to train or start a dog for you... (2)...annie is bread to josh and she's due around 7 August 2017 I'll sell my puppies for $550.00 male or female on a first come first serve basis... if you need a good hunting dog I'll be glad to sale you a pup.. PS. An old grouse hunter told me pretty is as pretty does in a birddog...if you see my dogs on the ground you'll see hunting dogs they mind they go to work with me they've never spent an entire day in the kennel and they're Grouse hunted months each year....they have been on Quail and Chuckers...
Hunting Dog Breeds Raised
Llewellin Setter
Breeder Contact Info
Testimonials (3)
Submitted by: Priscilla Small on Jul 12, 2018
In August 2017, I purchased a female puppy (Annie) from Kevin. She is now 10 months old. Annie is the best dog! I quickly fell in love with her. She was easy to train. Come, heel and hold were simple. No joke! Annie was heeling after one walk of training. As a little pup she was finding chukkar and pheasants. Additionally, she has an incredible temperament. My children love her and I can tell my husband thinks I'm beyond lucky to have a dog so easy to train. Treat a setter like you care and they are so loyal of a breed. You can't go wrong getting a setter from Kevin, he is both reliable and knowledgeable. This Fourth of July I took Annie to the city's fireworks display. Annie never flinched. She's a natural gun dog. I can't wait for pheasant season!!!
Submitted by: Doug Cooper on Oct 18, 2015
We purchased a female Llewellin setter pup from Kevin in July 2015. Our puppy was too young to come home with us so for three or four weeks Kevin kept us up to date on her development through pictures and text messages. Our puppy is everything Kevin described her to be and she grows more beautiful everyday! She is a sweet,intelligent companion and an incredibly instinctive bird dog too!
We are thoroughly pleased with our pup and really enjoyed interaction with Kevin. We are enjoying our Reese pup so much we are considering buying another pup from him in the near future.
Submitted by: Tom Nelson on Jul 29, 2015
On July 12, 2015 we emergently had to put down our 4 year old beloved Llewellin hunting dog. The dog was not only a great hunting dog and companion but a true member of our family.
We began looking for another Llewellin a few days later and found Phoenix Mountain Kennel through the Gun Dog Breeders website. Although we reached out to many breeders from this and other websites, it was the relationship we immediately built with Kevin Blevins that helped us grieve for our lost boy and assured us we would be able to provide a great home to one of his pups. His pups were too young to travel when we first reserved Charlie. So Kevin provided us with daily pictures and updates on the progress and development of our pup. Kevin truly loves and puts great care into his dogs. He always had great enthusiasm when discussing his dogs and answering any questions we had.
As we leave in Nevada the pup had to be shipped to us from North Carolina. He helped us to make the necessary arrangements to insure our precious cargo arrived safely. Once the dog left him he stayed in touch to insure we received the pup and were happy. Not only were we happy we were overjoyed. The pup was everything he promised and so much more. He is beautiful, smart, playful, sweet, gentle, active, curious, and a joy. The pup immediately bonded with the family and hasn't cried once. He even sleeps through the night (at 4 years our old one still got up at least 1 time a night).
Thank you Kevin for helping us through a difficult time. I strongly encourage your kennel to anyone looking for a great hunting dog and family member.
Submit your testimonial