Nine Gates - North Carolina Spinone Italiano Breeders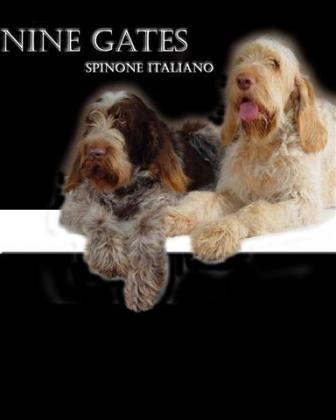 About Nine Gates
Nine Gates Spinone Italiano
Not Spumoni but better and sweeter. Involved with this breed for almost 15 years, we have bred and owned many confirmation champions and Specialty winners as well a hunting titled dogs and natural hunters with with tremendous desire and drive who can come home at night and sleep on our beds and lie calmly at our feet in the house. They look and hunt like the true Italian Spinone.
Hunting Dog Breeds Raised
Spinone Italiano
Breeder Contact Info
Lynn Cox, Nine Gates
P.O. Box 983
Hillsborough, North Carolina 27278
Breeding quality gun dogs for over 15 years.
Send Email to Nine Gates
Testimonials (3)
Submitted by: Alicia Gordy on Jan 23, 2021
Our beloved spinone is almost 9 years old and we received her from Lynn Cox when she was 10 weeks old. Our spinone has always had the sweetest, kindest temperament. She is intelligent and loyal. We have definitely crowned her queen of our castle. I can't speak highly enough of this breeder. We have so much gratitude for Lynn Cox and the gift she gave our family.
Submitted by: Corina Earl-Graef on Nov 18, 2019
I have only ever had one Spinone in my lifetime. We got her from Nine Gates, Lyn Cox in 2007. She was the most wonderful dog you could ever imagine. I can't tell you what a perfect companion she was to us and our other dog, a Chocolate Lab named Gus. She lived a very long and healthy life and I highly recommend any dog that Lyn has bred or acquired. She has great dogs.
Submitted by: Bill Bakken on Jul 12, 2019
We got the best dog ever from Lyn. He has been healthy and an absolute joy. A classic Spinone!!
Submit your testimonial