Madoc Farm - North Carolina Deutsch Drahthaar, German Wirehaired Pointer Breeders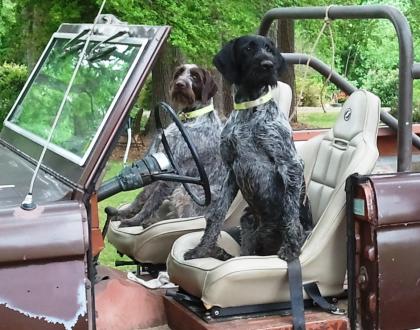 About Madoc Farm
Located in Eastern North Carolina, my wife, Mary and I, own two German Wirehair Pointers Drahthaars.
The Sire:  Madoc "Doc" vom Stillwasser and the Dam; Millie Moon vom Dornenberg are both  registered German Wirehair Drahthaar in American Publishing Company,  Field Dog Stud Book.
Of the several breads I have personally owned and hunted, the German Wirehair has been by far the most exceptional all around hunting, family and companion bread of sporting dogs I have ever had the pleasure to own, train and hunt.
Millie and Doc's first litter of nine puppies were paced in new homes at eight weeks of age with three puppies going to Virginia, three in North Carolina, two in Tennessee and one puppy going to Alabama.
B-Litter arrived on September 10th.   All puppies from B-Litter were sold to new owners within 2 weeks of their arrival with one puppy going to a shooting preserve in Wyoming and the other four remaining in North Carolina.
C-Litter arrived on October 23, 2015 all puppies with the exception of one black roan and ticked male were spoken for upon delivery.  This one male will be available to a new home December 5, 2015 just in time for Christmas.
Millie and Doc are both young dogs and exceptional hunters, companions and family pets.  
Contact me if you are interested in owning one of the most exceptional sporting breeds available.  Our dogs are ready to hunt and please their owners.  "ONE BLACK ROAN & TICKED MALE PUPPY AVAILABLE DECEMBER 5TH, 2015"
  THANKS TO EVERYONE WHO INQUIRIED, THIS PUPPY NOW HAS A NEW HOME IN PENSYLVANIA
Hunting Dog Breeds Raised
Deutsch Drahthaar, German Wirehaired Pointer
Breeder Contact Info
Eddie Stocks
4878 US Hwy 64 Alt W
Tarboro, North Carolina 27886
Breeding quality gun dogs for over 2 years.
Send Email to Madoc Farm
Testimonials (0)