Cool Springs Chesapeakes - North Carolina Chesapeake Bay Retriever Breeders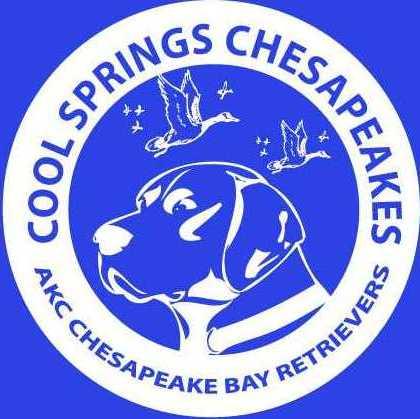 About Cool Springs Chesapeakes
Cool Springs Chesapeakes of Plymouth, NC is a small farm/hobby kennel offering superb AKC CHESAPEAKE BAY RETRIEVER puppies.
Our Chessies have proven to make excellent hunters and wonderful companions.
Pups coming soon! Fall 2013
For more information, please visit www.coolspringskennels.com

Hunting Dog Breeds Raised
Chesapeake Bay Retriever
Breeder Contact Info
Testimonials (3)
Submitted by: Bill and Sue Riley on Dec 23, 2012
If you are looking for the perfect yellow Lab you have to visit Cold Creek Farms. We just, recently, had the chance to bring Max to our house. He is smart, social and totally Lab. He is also totally puppy so we are working on that. Folks always stop to comment on his great classic lab looks. With Sara P as the mom and Gus as the dad you would figure he has to be a special dog.
Shoot the little guy wanted to go after some ducks in the pond a day ago and he is not quite 3 months old. He is wonderful with my grand children and is very willing to learn. I love labs and this time I truly got the special one. Gretchen loves her dogs and you can tell by her kennel and the beautiful smart "kids" that live there. You may have to wait to get a pup, but you owe it to yourself to check out Gretchen's web page and give her a call.
Submitted by: Kendall Davis on Dec 11, 2010
I adopted Tank or he adopted my family Feb 2009 He is the joy of our family great around ppl and animals, The Spruils are super ppl and truly care for the breed great to work and just a joy to know
Submitted by: matthew harbin on Mar 13, 2009
i have nothing but wonderful things to say bout the people and dogs of cool springs kennels. i had researched kennels for several months before i bought my dog. they were very polite and went out of their way to meet with me when i had unexpected problems arise on the day we met. the dog in a word amazing. she now 10 months old and an accomplished hunter. she hunted with me all last season and did a wonderful job. her first time out i killed a limit of ducks and a goose. after the first retrieve it was like a light came on her her head, like she had been doing it since birth. after that she retrieved every downed bird flawlesly. the final bird of the day an nice drake black duck sailed off about 200 yards before falling dead. i started to get up to walk her a little closer to the bird but she began to get ansy and whimper for me to release her so i cut her out. a few minutes later she came trotting up proud as could be with herself with the duck in her mouth. shes an increadible dog. and for everyone concerned about having chessies and having small children dont be. i have a 2 year old son and a 1 year old daughter and shes grate with them. they run and play but she is also very gentle espicaly with the baby. shes a grate dog and i would recomend cool springs to anyone looking for not only a fine hunting companion but alos a wonderful pet.
Submit your testimonial