Southern Fire Wire-haired Pointing Griffons - North Carolina Wirehaired Pointing Griffon Breeders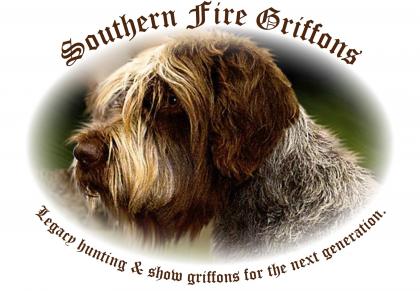 About Southern Fire Wire-haired Pointing Griffons
At Southern Fire Griffons we breed quality hunting dogs for hunting homes only, some which also do conformation - as we do. As an AKC Breeder of Merit and a member of the AKC Bred With Heart Program, we strive to produce healthy, well structured puppies that can do the job they were bred for and shine in the show ring at the same time. All of our dogs have passed ALL their AWPGA recommended OFA CHIC certifications, plus cardiac. They are certified in cardiac, hips, elbows, thyroid and eyes. We are committed to breeding dogs that uphold the standard, temperament, structure and hunting ability the wire-haired pointing griffon is meant to exemplify. Our puppies are 22 blank shot proofed, swimming (if not born in winter) and introdiced to quail when they leave our home at 8 weeks. They have also been crate trained and have started basic house training. We are committed to their success. We require a copy of a current hunting license, a deposit and a filled out puppy agreement to reserve a puppy. We have had hunting dogs all our lives and have never had a bad one. We made the decision to move to a closer hunting dog that could do multipurpose hunting. We got our first griff Jess and she has exceeded all of our expectations. She is a true versatile hunter. This past Spring she got a NAVHDA UT 1 and qualified for the NAVHDA Invitational. She was the first grand champion silver in the history of the breed to do so. We earned a NAVhDA Natural Ability Breeders award for her first two litters and hope to do so for her third when they are old enough. From her we have a son GCH Bronze Southern Flash's Cloud Runner NA 2 and GCH Southern Flash's Starry Night NA 2. Both have excellent hunting potential we look forward to what they will do in the future as they grow and mature. We at Southern Fire Griffons are breeding for the future. We invite you to consider joining our family of hunting Griffons. It is truly an adventure.
Hunting Dog Breeds Raised
Wirehaired Pointing Griffon
Additional Services
Stud Services
Breeder Contact Info
Puppies for sale
Testimonials (4)
Submitted by: Randy Weaver on Aug 26, 2018
We feel so blessed to have connected with Karen Cate and her Southern Fire Griffons! Our pup took his NAHVDA test last May. Before the judge read his scores he shared that our boy had an 'absolutely stellar performance in the field'! That compliment speaks volumes about Karen's Griffs and and her excellent breeding program! Her early training was evident the day we picked him up. He had that nose to the ground and absolutely not gun shy! Our little guy is so impressive to watch when he is hunting. His drive and skills are amazing and I've hunted over many dogs for 30+years. Our pup is our first Griff and Karen was always available to answer any questions we had and was quick to offer and suggest training tips. She truly cares about her pups and their families! We will certainly be adding another Griff to our hunting family and it will only ever be from Karen's Southern Fire line!
Submitted by: Tim Oates on Apr 03, 2017
I have own many Bird dogs over my 66 years but this one takes the prize. Not only is he a natural pointer, backer, retriever,driven hunter, but a lovable goof ball.
This was an excellent breed dog and the breeder took special attention to make sure there was not any gun shy puppies with early introduction to gun sounds. She even had them use to sleep in their own area.
She made me prove i had a hunting license before she would sell to me.
If you want a hunting dog this is the place to look.
Submitted by: Mollie Beacham on Apr 03, 2017
Karen and Bob are amazing!! They are wonderful people who love this breed like no other! We got our pup in November of 2015 and he impresses us every day! Learned commands and obedience quickly. Scored a perfect natural ability score - but that was after two weeks of help from Karen and Bob! We would definitely recommend this kennel and will probably use them again.
Submitted by: Garron Riechers on Apr 02, 2017
It has been and continues to be such a pleasure to deal with Karen and Bob at Southern Fire Griffons. They are the most helpful breeders ever and their love of their pups is evident in everything they do. Our boy has been completely fantastic scoring a perfect 112 on his NAVHDA NA while also completing his AKC Champion title by the age of 11 months (owner handled). In short, quality dogs and quality people.
Submit your testimonial