Broadhead Kennels - North Carolina German Wirehaired Pointer Breeders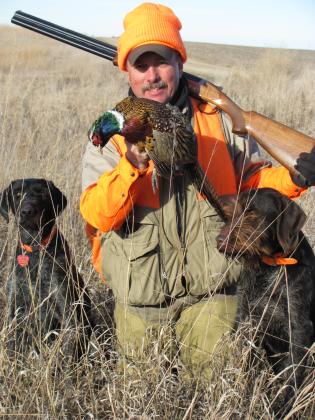 About Broadhead Kennels
As a Master Bowhunter in N.C. and with 40 years of hunting big game and upland bird, I researched to find the best all-round versatile hunting dog on the planet. This led me to become a breeder of the German Wirehair. Now, after 8 years of training and extensively hunting dove, duck, quail, pheasant, small game and blood tracking deer with this breed, I am 100% convinced that the German Wirehair is the serious hunters ultimate hunting dog and companion.
Today, we at Broadhead Kennels, strive to breed for an atheletic, medium size German Wirehair that has the drive and desire to hunt and retrieve everything from ducks to upland birds along with a strong desire to track blood trails for our big game hunting.
Our dogs have added so much pleasure and success to our hunting that I can't imagine being an avid hunter and not owning a German Wirehair. Join us as a member of "Team Broadhead" and enjoy your hunting future more than you ever imagined with a German Wirehair from Broadhead Kennels by your side!
A wonderful and seriously well - bred litter of pups will soon arrive at Broadhead Kennels early August, 2015. We are now taking serious inquiries and deposits on this litter. Visit www.broadheadkennels.com.
Hunting Dog Breeds Raised
German Wirehaired Pointer
Breeder Contact Info
Testimonials (1)
Submitted by: Clifton Gibbs on Aug 02, 2011
We got Abby Oct. 2010, She is now 11 months and with minimal training she is by far the best i have ever owned. Abby is a DD Verein Deutsch-Drahthaar. She is now one of the family.
I am not a full time hunter but i go whenever i get the chance and birds or deer are in season. I have taken her Pheasant, quail and duck hunting at least three times and she continues to get better each time. I took her deer hunting one time, we did not get a deer but she brought me back a bear claw. The entire fist. Must have gotten caught in a trap. But it was fresh.
Broadhead Kennels have great quality dogs.
Submit your testimonial