Big Bay Kennels llc - North Carolina English Springer Spaniel Breeders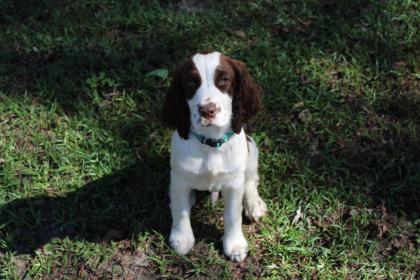 About Big Bay Kennels llc
Here at big bay kennels we are a usda liscensed class A breeder we raise akc English Springer Spaniels we strive to raise the most heathy and socialized puppies possible if you choose to purchase a puppy from us we will go the extra mile to make sure the transition goes as smoothly as possible we have shipped puppies all across the country so shipping will not be a problem. Give us a call !
Hunting Dog Breeds Raised
English Springer Spaniel
Breeder Contact Info
Testimonials (3)
Submitted by: McClure Angie on Jun 10, 2020
We got our Springer from Big Bay Kennels. Our dog is Jax Hunter of Big Bay! He will be two in three months and he is huge and beautiful. He is all muscle and runs like the wind. His gait is absolutely beautiful. He weighs over 65 lbs and is almost three inches taller and almost twenty pounds bigger than our other Springer That is a Bench that came from another Breeder.
Jax is a big boy! We love it. Jax has the sweetest personality and is so general with my grandkids despite his large muscular size. We have a cabin in the mountains that is a mile off the road in the woods on the river. Jax loves it there so does Newt our other Springer. When we start down the mountain to the cabin they both start whining and shaking and cannot wait till the truck stops to jump In the river.
Johnny Worley at Big Bay Kennels breeds beautiful dogs. Their color and coats are so beautiful they just shine. The kennel is so nice and you can tell the dogs love Johnny. I highly recommend Big Bay Kennels
Submitted by: Michele on Oct 27, 2018
We had such a wonderful experience with Big Bay Kennels! The owner lives on a wonderful property and provides a loving enviornment for their dogs. We had many opportunities to interact with many of their puppies and adult dogs. They all looked very happy and appeared to have stable personalities. They looked well cared for and loved. They had clean living areas and their coats looked healthy and shiny. We took three separate trips and each was a delightful. The owners are very helpful and quick to respond to any questions or requests. We couldn't be happier!
Submitted by: Karen Haley on Feb 09, 2017
I purchased a male Springer Spaniel puppy from Big Bay Kennels three months ago. The Worleys have a small, well kept facility for breeding these dogs. I was able to visit the dog four times before he was ready to leave the litter. All my questions were answered and I learned a little about breeding these dogs as I asked a lot of questions and the Worleys were gracious enough to accommodate all my inquiries. They were very transparent about all aspects of raising these dogs with me. My puppy has the most gorgeous markings and he has readily adapted to his new environment. I would like to thank the Worleys for their patience with me. I would recommend that anyone looking for a family dog visit Big Bay Kennels. Thank you so much to the Worleys!
Submit your testimonial