Snowy Days Spinone Italiano - New York Spinone Italiano Breeders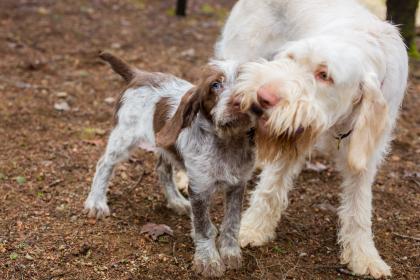 About Snowy Days Spinone Italiano
Lovely spring 2018 born- please See ACTIVE CLASSIFIED AD for details. We DO NOT sell puppies with AKC Breeding rights - AKC Limited Registration only. All our dogs bred are AKC Champions or Grand Champions with CA -Clear tests, OFA Heart, Eyes, Hils and Elbows. GCH Jasper will be considering Stud Service Starting February 2018. He will not be bred to and females without the following tests after 2 years of age- No Exceptions. He will also Not Be line breeding so please see his pedigree before asking to be considered. Tests required: CA - Clear OFA - Heart, Eyes, Hips, Elbows
Hunting Dog Breeds Raised
Spinone Italiano
Additional Services
Lodging, Training, Stud Services
Breeder Contact Info
Testimonials (4)
Submitted by: Tamae Memole on Oct 02, 2018
On Sept. 29, 2018, we celebrated the first birthday of our very special Hazel Mae. We could not love our Hazy more than we do. She is full of Spinone personality - bursting with love and joy (and a bit of stubbornness - lol). She fills every room she enters and her love and joy are contagious. She is robustly healthy and absolutely beautiful. Many thanks to Jenn.
Submitted by: Richard Olswold on Jan 18, 2018
When we lost our clumber spaniel to cancer, we decided we needed another dog in our life. Clumbers are hard to find and we had heard of the spinone. After doing our research on the spinone, we thought it would be a dog that would fit our lifestyle. Through spinone gundog breeders we got in contact with Jen. She had a litter on the way and was open to us visiting her. Jen was very open to us and explained what a spinone was like. We wanted a dog that was a people dog and liked to hunt. Her dogs were very friendly and no barking. We decided that day a spinone was in our future. Cocoa is everything we had heard about the breed. He makes us laugh every day and is a good companion. He has hunted since he was 7 months old and took to hunting naturally. Those who have hunted with me have been greatly impressed. Jen contacted us the day he was born and provided video and pictures as he grew up. Cocoa is a very solid and healthy dog. Thank you Jen for our Cocoa.
Submitted by: Rich Olswold on Jan 14, 2018
We had heard about spinoni quite a few years back along with clumber spaniels. When we lost our beloved clumber spaniel at 6 years of age to cancer, finding a clumber was almost impossible, so we went looking for a spinone. We called Jen, knowing she had a litter on its way, to check out her kennel and dogs. She was very open to our visit and after seeing her dogs and talking with her, decided on a spinone. I wanted a people dog and a dog that would hunt birds. Cocoa has been all that. His first bird hunt was when he was 7 months old. He located all birds that we had set out and tracked down the wounded. He is now 2.5 years old and continues to impress those who have hunted with me. Jen contacted us and sent a video the day Cocoa was born and updated us with pictures as the pup got bigger. Cocoa is all that we have read about spinoni and more. Thank you Jen.
Submitted by: Patricia Wedding on Dec 13, 2015
I found Jen through this site. She was welcoming and hospitable from the start. She sent me puppy pics and we arranged for the purchase of my Spinone. We could not be happier with our boy. He truly is the most gentle, kind, willing, compatible animal we have ever had. His disposition is so relaxed and he is faithful and attentive to his people. Jen has bred some solid animals. Ours was in one (large) dog show and took best of opposites. Our next Spinone will come from Jen.
Submit your testimonial