Freestone German Shorthair Pointers GSP NY - New York German Shorthaired Pointer Breeders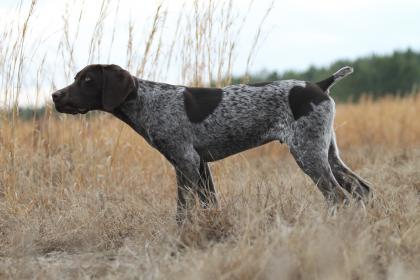 About Freestone German Shorthair Pointers GSP NY
-- Freestone GSP prides ourselves on our superior program. We are not a "mass producer" we concentrate on quality over quantity. Our pedigree is one of the finest you will find. We breed for natural ability which means your hunting and family companion should require less training to do what it is naturally bred to do. In addition to our dogs super hunting ability, our dogs are also great family pets and we spend the time with potential new owners making sure it is a great fit. Our pedigree is one of the finest you will find running deep with tons of natural ability. Our dogs have a proven track record and have been tested in the field. We do "hunt test" our dogs before breeding (NAHVDA or UFTA/BDC) as well as hip certifications and other health testing. We have multiple awards and accolades to our dogs credit. Natural retrieve, honoring, tracking, water work and prey drive are just a few of the desired traits our dogs have. Not a hunter....no worries..... Please visit our website or call or email. We'd love to speak with you. If you want the best...you found it. We have a litter for sale now June 2022!! Call us, we will be here for you!- John Zalewski- 814-598-7096
Hunting Dog Breeds Raised
German Shorthaired Pointer
Additional Services
Hunting, Fishing, Meals, Training, Stud Services, Boarding
Breeder Contact Info
Our Pedigrees
Testimonials (7)
Submitted by: Kati D Keller on Jun 24, 2020
We have the 2 best puppies ever due to John! He was so helpful and kind through out the whole process and even checked on them every once in awhile to make sure their doing alright! Both dogs are very loving friendly girls, great family dogs, and would also be very great hunting dogs!! Thank you John for our amazing addition to our family!
Submitted by: Jevan Jammal on May 15, 2017
John helped me out so much to find a breeder I could trust because he didn't have any pups for me. I am so grateful to him. He was so knowledgeable. I would not have found a dog without him.
Submitted by: David on Oct 10, 2016
We purchased our puppy August 2016. To say that breeding is important is an understatement. This is our fourth GSP and we couldn't be any happier with our choice in Freestone Kennels. Mazy [our pup] has been a pure joy from day one. She loves to retrieve so much that I'm done before she is.
At three months she had her first outing with live birds. She pointed and held to shot all six birds planted. The very next week she not only found all of the birds, pointed and held to shot, but also retrieved to hand each bird. Three months old!
Thank you John at Freestone Kennels for breeding such a great dog and for all your help along the way.
Submitted by: Jonn Kopp on Oct 03, 2015
I purchased my pup from John in March of 2015. I can not express how happy I am with Jackson (our pup). Today was our first duck hunt and he made four retrieves with no actual duck hunting training. Two ducks fell in the marsh grass and he used his nose and came up with the ducks! At 7 months old that says a lot about this breeders eye for putting together a great litter. On grouse he works close in tight cover, checks in often and always produces! At home he is our 5 year old's best friend and a welcome addition to our family. Smart, loving, great with other dogs... And great in the field. All of this at 7 months old. I can't say enough about how happy I am with our decision to use John as our breeder! He stays in touch, even when I slack and is always there to answer questions. I look forward to the years ahead with Jackson in the field and at home as well as gaining a friend with John.
Submitted by: Rich Keller on Apr 18, 2015
We purchased our pup in September of 2014 and could not have possibly been any happier with her or the breeder, John. We have been in constant communication with John since the purchase of our pup, regarding the many questions that arise when becoming first time dog owners. We've been so pleased that we have decided to add another dog to the family from the March 2015 litter.
Submitted by: Russ Pielecha on Dec 29, 2013
I purchased a puppy this fall, and in a very short time he is allready showing us his hunting capeabilities. He's a natural and a awesome pet. The breeder John was very knowledgable about the breed and very caring twards the dogs, when its' time for another dog we will look no further!
Submitted by: Paul Aronica on Jun 11, 2012
We purchase a pup last year and she's one of the best dogs we ever owned. She's a natural born hunter and great house dog / family pet!
Submit your testimonial