Donnybrook Farms - New York Irish Red and White Setter Breeders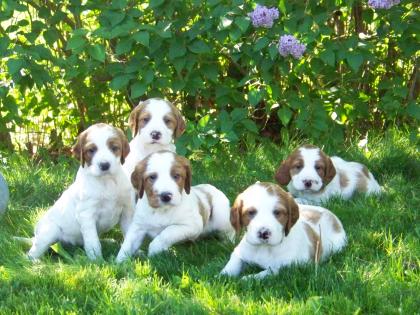 About Donnybrook Farms
Welcome to Donnybrook Farms
IRWS captured our fancy as a natural progression from raising and showing Connemara ponies since 1969. We are focused on raising the ideal hunting companion that befits our Irish heritage and commitment to conservation ideals. That our puppies have show and field champion lineage is just an added bonus. We are selective to be sure both beauty and brains stand out in our program so that competition in conformation, field and agility events are exciting options for our puppies and their new families. We especially enjoy hunting, hiking and many other outdoor activities with our own personal companions.
Contact us for current or planned litter information, puppy applications and updates on our activities. Young dogs occasionally available.
New puppies are here!! We have 2 litters, 1 Group ready late May, the other group early June.
New mother Heather has compleated her health testing and her wonderfull pedigree is topped off by an OFA Exellent rating!
Call or E-mail for more information.
Hunting Dog Breeds Raised
Irish Red and White Setter
Additional Services
Stud Services
Breeder Contact Info
Testimonials (2)
Submitted by: Maria Bitterman-Siladin on Oct 05, 2009
We have a new family member, who is a male Red and White Irish setter we have gotten from Pat and Roy two months ago. Our entire experience with Donnybrook farm was excellent - the owners are wonderful people who truly care about the animals. Oliver is our first puppy and we got all the questions answered every time we talked to them. Pat and Roy were very accommodating and Roy offered to drive over 400 miles to meet up with us and bring us a puppy. Oliver is a great pup and he is wonderful with other animals, people and children, very playful and full of energy. Thank you, Pat and Roy so much for bringing this joyful gift to our family. Masha&Marko&Anastasia
Submitted by: Jill Whitney on Aug 23, 2009
We bought our newest family member last May, (2008). We love her, she is really fitting here with us. We had a golden retreiver that got bone cancer and had to be put down, we put a lot of thought into the dog we wanted, it took about 8 months before we could think about bringing a new puppy. We searched the internet and decided that we wanted a red and white irish setter, we did not know that we had a breeder right in our hometown. We visited without our children the first time, once we decided that we did want to get her we took the children with us. Pat and Roy, (the breeders) let us see both parents of the pups, we got to spend some time with the puppies, and the parents. They are both of great temperments and qualities. (show and hunting). Our dog, Miley, is crazy about birds, we've started training her, she goes nuts, she loves it. These dogs have a ton of energy, they need to be able to run, and I mean run! She is great with out 2 girls ages 4 and 6. We have taken training, general dog training very seriously, Dogs need to know where their place is in the family. She was a big chewer, but once we got the underground fence in for her so that she could run, she was a whole different dog. She is smart, energetic and loving. Very smart dogs. We did have a little problem with food aggretion, but the first sign of it we did what the trainig guides reccommended and we no longer have the problem. Can't say enough about her, we plan to get another one. but right now we have 2 dogs and realistically for us that is all we can have at this point. But someday we do plan to have 2 Irish red and white setters. This breeder will tell you anything we want to know, we had a lot of questions, we really checked out everything before we purchased our dog. They were very kind and knowledgable about the breed and any other questions we had about the background of this particular pedigree.
Submit your testimonial