(Dutch Ridge Kennels) - New York Wirehaired Pointing Griffon Breeders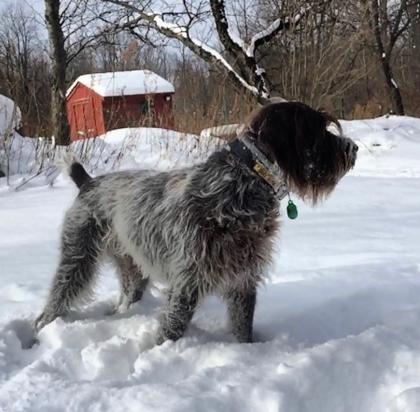 About (Dutch Ridge Kennels)
Will be breeding for our second litter of exceptional Wirehaired Pointing Griffons with the breed standards applied
Hunting Dog Breeds Raised
Wirehaired Pointing Griffon
Additional Services
Stud Services
Breeder Contact Info
Testimonials (4)
Submitted by: Gary Hogate on Mar 07, 2019
Excellent breeder producing a very fine stock of pups per AKC standards with excellent natural hunting instincts. The pups are very healthy, energetic and natural hunters. The breeder is extremely friendly, will answer any and all questions, assists with registries and ensures you have all the documentation, certifications and vet visit paperwork. They go above and beyond to ensure your questions are answered, your puppy is ready for its new life with the new family and 100% satisfaction with your experience. I would highly recommend the breeder.
Submitted by: Sue Rousseau on Mar 07, 2019
Wirehaired Pointing Griffon- 12 weeks old, picked up at 8 weeks old. It was a pleasure working with the Jones family during this process of buying one of their pups. We started our journey before the puppy was conceived, they kept us informed from the beginning right up to the pick up day. The quality of the bloodline of their dogs is very impressive, the proof is in the pup. Getting to meet both parents and watching their interactions with the litter and the people in the home was invaluable and reassuring. Heather and Mark devoted a lot of time in making sure that this litter and each individual pup experience a variety of stimulation and experience, which reflects in the temperament of the puppies. The breeders were available at all times for questions and updates on the litter and provided great information. It was a pleasure doing business with them and I wouldn't hesitate buy from them again.
Submitted by: Lisa on Mar 06, 2019
We had the best experience with Dutch Ridge Kennels! Their dogs and puppies are raised in their home with lots of love and activity. Our WPG puppy is now 12 weeks old and was very well socialized so the transition to our home was pretty seamless. DRK made us feel part of our puppy's first 8 weeks with lots of photos and updates. They are wonderful people and continue to support us with helpful advice and tips. Our puppy is sweet, beautiful and very smart. Working with DRK is a wonderful experience!
Submitted by: Luke Boyea on Mar 05, 2019
We purchased our wire haired gryffon pup Ruger from Dutch ridge kennels. Heather and mark had so much information on the breed and our pups lineage. They made the entire experience of buying our pup enjoyable. We would recommend buying a pup from them to anyone. They truly care about the well being of their dogs both during and after they have gone to their homes and it shows.
Submit your testimonial