GeT'uM ShortHairs - New Mexico German Shorthaired Pointer Breeders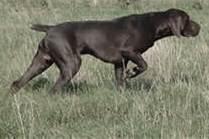 About GeT'uM ShortHairs
GETUM shorthairs is a kennel dedicated to the average hunter we offer good quality dogs. we have a variety of colors black and white, solid liver, liver and white and solid black. 
our sire OLE RED KONA is a solid liver very stout and smart dedicated in the field but a very good family dog at home. Has won several field trials, is a guide dog is hunted behind year round.
our dam BETTY BOOP is black and white well natural dog but full of stamina in the field. calm enough to play with small children at home.
this combination has bred very smart easily trained dogs dedicated to a full days hunting and calm enough to play with small children.
 Our newest Sire GETUMS SHOTGUN DANDY is now statnding at stud. shotgun is the classic shorthair liver and white and a large dog.  he just goes goes and goes. Also a guide dog
  GeT'um is out to provide the new generations with the hard work and dedication past generations have seen out of the shorthair breed .
Puppies year round call today
 Get'Um shorthairs promotes Brugman Outfitting Service they are offering fully guided big and small game hunts check them out at Southwesthunts.com.    website is for hunting only
use contact info for gsp's.
check out Huntinggpsmaps.com for all your gps maps need.
9-2-2016 Getum shorthairs is currently out of business. Until further notice
Hunting Dog Breeds Raised
German Shorthaired Pointer
Additional Services
Hunting, Stud Services
Breeder Contact Info
Submitted by: Lauren E. on Aug 19, 2021
Sadie has been the best dog I've ever owned, I got her back in 2017 from William. She is gorgeous, has an excellent temperament and performs well. She has a natural point, is a star at agility, and the biggest snuggle bug you'll ever meet. I only get compliments on her. She has a classic gun dog look to her. After owning Sadie I can confidently say I will never not have a GSP. This breed has my heart. Kudos to William for breeding such an outstanding dog. I would not hesitate to buy a dog from him again in the future.
Submitted by: Lauren Evans on Nov 19, 2017
Submitted by: Chris Tobey on Dec 05, 2016
Bought an all black male from Will in March 2016. Gauge has been a great addition to our family, very smart, laid back in the truck and around the house but very enthusiastic in the field and at the duck pond. Gauge earned a prize one in the NAVHDA natural ability test at six and a half months and is showing great promise so far in his first quail season. Will is a great guy to deal with, very helpful and accommodating. Thanks for the new hunting buddy!
Submitted by: Malik Sokolov on Aug 06, 2016
Picked up a black and white male from the March 2016 litter. This pup is amazing at 15 weeks he is pointing pigeon's and retrieving. He was an awesome addition to our family and is developing super quick.
Thanks Will. Awesome breeder
Submitted by: Erik on Feb 26, 2016
I bought a pup from Will in 2015. A liver and white male. This pup was house trained with in a couple days. At the beginning of quail season he was already listening to basic commands. Will is the best to work with in January I met up with him to take my pup to hunt with his father "Red". That dog is so passionate and well mannered in the field my pup seemed to follow his lead. Awesome dog. But yet an awesome person. Thank you getumshorthairs@yahoo.
Submitted by: Patty Dunbar on Feb 06, 2016
I bought a solid brown pup for my husband in 2015. Buckwheat is without a doubt the smartest, sweetest dog we have ever owned. Not the usual hyper GSP. Thank you Will for keeping him an extra two weeks for me when I needed the help. BEST DOG EVER.
Submitted by: katherine on Sep 29, 2014
I purchased a pup from William in the summer of 2014 for my husband. He was so awesome he held the pup for me for an extra couple weeks so I could surprise my husband. Remington has been an awesome addition to our family my husband is super pleased with how smart and birdy he is. Thank you.
Submitted by: Chris Rodell on Mar 28, 2014
I hunted with getum shorthairs in the winter of 2013 in New Mexico. We hunted behind his Black and White female. She is a solid dog with a pretty point. She was well behaved and super smart.
Submitted by: paul keith on Apr 09, 2013
i bought a dog from getum shorthairs in 2012. My female is out of wills male red and his female betty. I was unsure about a shorthair because the breed is so hyper active and hard headed. i contacted will and he explained his dogs to me and assured me thier puppies would fit my needs. My female is amazing she is every bit of what will explained she would be. i highly recommend this breeder.
Submitted by: Scott on Feb 02, 2013
Bought a black and white male from getum shorthairs. Then drew an elk tag nm unit 36 I remembers Will said he guided so I called him up booked the hunt will got me on good bulls I took a 340 bull them we hit grass lands I put my dog next to his father and we chased some crazy new Mexico blue quail.
I couldn't ask for a better dog his instincts are in his blood getum shorthairs is top of the line
More Reviews for GeT'uM ShortHairs
Submit your testimonial