Mountain View Springers - New Hampshire English Springer Spaniel Breeders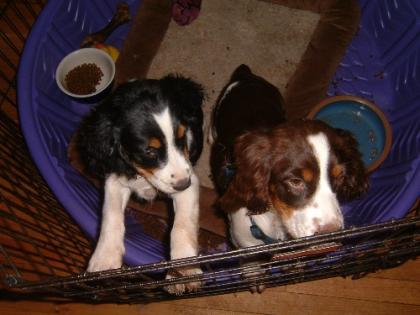 About Mountain View Springers
Mountain View Springers is located on the New Hampshire/Vermont border. I have two studs, father and son. One is L&W and the othr is B&W. I have three adult females, one L&W, and two B&W. I have also just acquired (9/'06) two new female puppies. One is L,W&Tan, and the other is B,W&Tan. There is a very good chance of having tri-puppies with these girls!
All of my dogs live in the house with us, and have never spent a night outside, or left out in the rain etc. They are all wonderful and beautiful.
All pups have five generations of CHampions in their pedigree, and leave here with their tails docked, dewclws removed, Vet examined, health certificated, AKC paperwork, Pedigree papers, the best puppyfood, and a collar.
They make wonderful family and hunting companions. Please contact me for any questions, pictures, and further information.
Hunting Dog Breeds Raised
English Springer Spaniel
Breeder Contact Info
Testimonials (7)
Submitted by: Caitlin on Mar 16, 2017
We got Asher in August of 2015 and he is simply beautiful. He is so well behaved and loving. He is a great companion, loves to run with both my husband and me, he hikes and swims! The kids love him and he plays nicely with them! Elaine certainly has done an amazing job with her dogs! We are stopped frequently w questions of where we got Asher:)
Submitted by: Jennifer Brown on Nov 04, 2016
My English Springer Spaniel named Oreo is almost 11 years old (Nov 21, 2005). He is the most loving loyal sweetheart on top of being absolutely beautiful. If I purchase another Springer I would absolutely purchase from Elaine. She is a trusted caring breeder who provided me with all the necessary information including AKC documents and certified pedigree documents at time of transfer. I can not thank you enough for allowing me to adopt Oreo. He is such an amazing well behaved dog that fits perfectly with my family.
Submitted by: Cecile on Jun 07, 2015
Ziva is also one of Elaine's puppies, she is very smart and learns very easy like the others commented on. She is beautiful and very loving dog we ever had. Elaine is a wonderful breeder and very well known in the North East for her wonderful springer spaniels. Ziva is 5 months old now and everywhere we go people will ask, " where did we get her"? Elaines dogs sell very fast because of her fine reputation, honest, kind, and loves her dogs and treats them very well. Thank you Elaine!
Submitted by: Pam Anfuso on May 15, 2015
We have had Riley since 2006. He is the sweetest dog ever. He is very intelligent; most days we are convinced that he thinks he is human. I am so grateful that we chose a English Springer Spaniel to join our family. We purchased Riley as a puppy from Mountain View Springers. Elaine Dunkerlywe a joy to work with. These puppies were raised as members of her family and that's what we loved about this breeder.
Submitted by: Sandy Roper on Jul 07, 2014
Our Abby is the most affectionate dog we have ever had. She is loving to everyone she meets. She has been such a wonderful addition to our family. Smart as a whip. Learns things easily. House training went very well. She rings bells at the door to alert us she has to go out. We love her so.
Submitted by: Barb on May 04, 2014
Annabelle is the sweetest little dog ever. She is now 6 months old and has brought us more joy than ever. She is smart and well behaved and so affectionate!
Submitted by: Louise Fedorczyk on Apr 27, 2014
Mocha was the smartest dog I have ever had the pleasure of owning. She was strikingly beautiful and beautifully tempered. Quality all the way.
Submit your testimonial