Little River Kennels - New Hampshire Llewellin Setter Breeders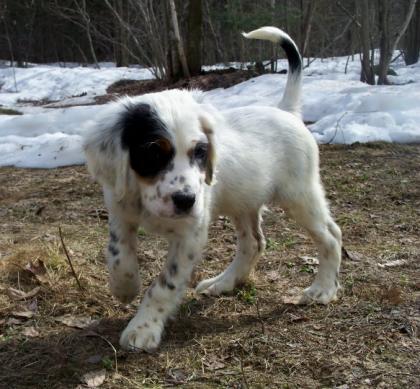 About Little River Kennels
 www.littleriverkennelsnh.com Little River Kennels, NH-- LLewellin Setters--Classic New England grouse dogs **Located in central New Hampshire, we have been raising Llewellins in a family atmosphere since 1992. CURRENTLY HAVE PUPS AVAILABLE NOW Pups come with Health Certificate, wormed, dew claws removed, and all paperwork to register through FDSB. All breeding pairs are DNA tested and results are on file with the American Field Dog Registry. Check out updates and pictures and watch them grow on Facebook. Little River Kennel~Llewellin Setter
Hunting Dog Breeds Raised
Llewellin Setter
Additional Services
Stud Services
Breeder Contact Info
Testimonials (3)
Submitted by: Gregg Jeanson on Dec 17, 2011
Recently had my dam bred with George's "Roy", a handsome young tri-color to match mine. George and his family were very welcoming and, even though we had to arrange a breeding on his oldest daughter's birthday, they rearranged their plans to accommodate us!
Overall, it was a great experience and I really enjoyed talking with the family and going through binders of their photos of Llewellin's, past and present and talking the breed.
George and Maureen, thank you!
To the girls, thanks for keeping my girls entertained while your father and I tended to the task at hand and Happy Birthday!
Submitted by: Jill Bishop on Nov 17, 2008
the gubitose family , breeds the most beautiful dogs . My husband and I drove up twice to look at pups . I have a 10 month old llewellwn named Harley , she a beauty , great confirmation. What I loved most is Mr. Gubitose girls played with all the pups and when I got there to pick her up she had at 8 weeks already ,learned to retrieve tennis balls !! People stop me when I walk her to ask about her , and she will wag her tail to no end when she sees kids playing . She is a great birder !!! I love the fact that this is a family breeder !! Keep up the good work Maureen and George and the girls !!!
Submitted by: michael townsend on Oct 14, 2008
I and Darlene had a great visit with George and his family was nothing but great when I got there his young daughter was in the dog house with the pups and I think there is nothing better than a dog and a kid playing good for both of them George was just great and answered all my questions assuring me that the pups would be just great hunters I felt very comfortable being there We picked two pups I cant wait to get them and start training them Thanks George and family Mike townsend wells maine
Submit your testimonial