Sierra Mountain Brittanys - Nevada American Brittany Breeders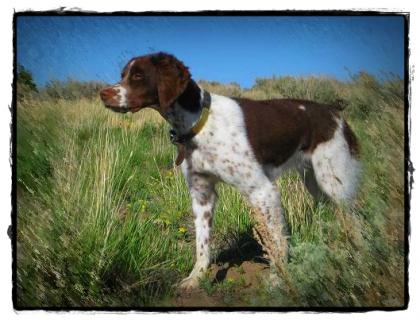 About Sierra Mountain Brittanys
Hello & Welcome to Sierra Mountain Brittanys, home to Bang, The American Brittany Club's Western Futurity 2009 Dual Dog Winner AND Gun Dog Futurity Winner!
EXPECTING A SPRING 2013 LITTER!! 
Located in prime upland bird country, our dogs our hunted on natural valley quail and chukar regularly.  We  have owned, hunted and campaigned Brittanys all of our lives, and have a lot of experience with the breed.  Our dogs are our personal hunting dogs, but we also participate in many types of competitions including AKC, American Field, & NSTRA field trials, AKC conformation shows and AKC hunt tests.   Our goal is to breed first class gundogs from proven and successfully hunted and campaigned bloodlines. We believe that not only should a Brittany be beautiful, he must have brains in the field as well.  We believe in the Dual concept and strive for excellence in our breeding program. We strive to produce puppies with strong, natural instincts, intellegence and style in the field, excellent conformation for the show ring, and above all, gentle and sound temperaments for a family environment.  Our pups are lovingly home raised and well socialized with children, adults, cats and other dogs. 
We have been members of the American  Brittany Club and Northern Nevada Brittany Club since 2001.  All breeding stock is certified to be free of hip dysplasia by the Orthopedic Foundation for Animals. Occasionally we may have birds for sale and  we will soon be expanding our kennel to allow for boarding as well.
Thanks for visiting!
Nick & Yvonne Shanto
Hunting Dog Breeds Raised
American Brittany
Additional Services
Stud Services, Boarding
Breeder Contact Info
Our Pedigrees
Testimonials (2)
Submitted by: Dale Williams on Nov 04, 2011
We picked Moxy up from Yvonne in May of 2010. All our contact to this point had been thru phone or email. We were pleased to see the manner and cleanliness of how the pups were being raised and cared for. We have continued our conversations off and on with Yvonne and she has always been very helpful and responsive.
Although we have had a number of hunting dogs they had all been kenneled out doors. We wanted Moxy to be an indoor dog and a member of our family as well as a hunting companion. We already had 2 Dachshund's, one being a pup only a few months older than Moxy. Moxy has fit in to our family extremely well and is a source of constant joy to us. We could not be happier with her, she is very loving, has a sweet personality and is easy to train.
Moxy has been to bird dog traning, and we have been to the field hunting 7 days this season. Moxy is making very good progress, has endless energy and gets very excited when the collar goes on her and we go to the field.
We would absolutely buy our pup from Nick and Yvonne if we had it all to do over again.
Submitted by: Joseph Nicola on Sep 19, 2011
I purchased a pup from Yvonne at Sierra Mountain Brittanys last year. My motivation was to have a companion / Family dog / Upland Game Dog. So far I couldn't be more pleased.
For the last year he has made a wonderful addition to my family. He gets along wonderfully with my son's, is very biddable, and is a never ending source of energy
And although I have not yet had him in the field. Max, is just about to return from "Bird Dog Camp" and the trainer says he is doing great.
Max, has been my first "Gun Dog"(although I have had many other dogs in my family) and as a newbie Yvonne has been wonderful. She stays in constant communication and is readily available to answer any and all questions I have. She has helped guide me through the process of turning max from a little bundle of energy into a great member of my family and hopefully a great companion in the field.
Submit your testimonial