Sentinel Labradors - Nevada Labrador Retriever Breeders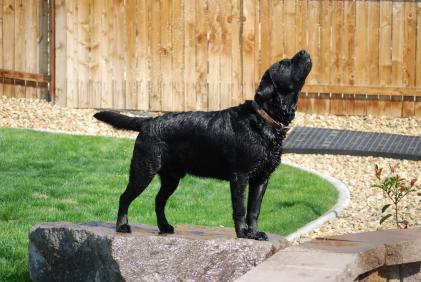 About Sentinel Labradors
Sentinel Labradors specializes in the breeding of English Labradors. We pride ourselves on careful consideration of litters and first and foremost believe breeding temperment is the first priority. My husband could sit and talk for hours around a campfire about who's dog is better in the field but we confidently believe temperment is the starting point. We have very good hunting partners in our labradors but they are an extention of our family as well.
We provide vet checks and shots, included in every purchase, as well as their AKC paperwork and health guarantee. Our lines go very far back and include many champions, both field and show. We dont have alot of litters and currently provide one or two per year maximum. Our Dam is Chocolate (Mirage's Mad About You) and our Sire is Black (Mirage's Kona Back in Black). We have 11 Champions in our Male and 15 Champions in our Female. There are no slouches. Loaded with show and field champions.
We look forward to many years of providing that next best friend and keeping the English Labrador as pure as possible through responsible, ethical breeding.
We welcomed 8 new pups, 4 boys and 4 girls on 7-13-2010 and it was an all black litter. 7 are available as of delivery. Nice blocky heads. Please call if interested. Visit our website, www.sentinellabradors.webs.com and we expect to answer any questions you may have, both about the breed and us personally.
Thanks
The Palmer Family
Reno/Tahoe Nevada
Hunting Dog Breeds Raised
Labrador Retriever
Additional Services
Stud Services
Breeder Contact Info
Testimonials (3)
Submitted by: Rick Trotter on Jun 29, 2010
We brought our male puppy home in March of this year. Colby and Erica were great to us and once we saw the dam and sire, we were sold. They were right, their temperment is unbelievable. My male has already been to two schools, one for hunt and one for obedience. Instructors at both schools raved about their ability to stay focused and wonderful temperment. You can't go wrong with Sentinel and again thanks, we will be getting another from you next summer.
Rick
Submitted by: Chris Dumont on May 12, 2010
Can't say enough about the Palmer's and the process of buying a labrador from them. They are very knowledgeable and truly care about the breed. They explain everything and I was more than prepared to take our new female puppy home. I could not believe how much training they already have at 10 weeks. WE love her, thank you
Submitted by: Campbell Family on Mar 29, 2010
What a wonderful experience to get our new puppy from Sentinel. Erica answered every question we had and was very knowledgeable about the English breed. It was amazing she already had our little girl potty trained at 10 weeks and on simple commands, it has made it easier for my husband and our daughter.
She (Lucy) is very calm and just a pleasure. Thanks so much for inviting us into your clean home and taking the time to make this a great experience. We are looking at getting another lab from you guys next summer, maybe a chocolate male.
Submit your testimonial