Weimtime Kennel - Nebraska Weimaraner Breeders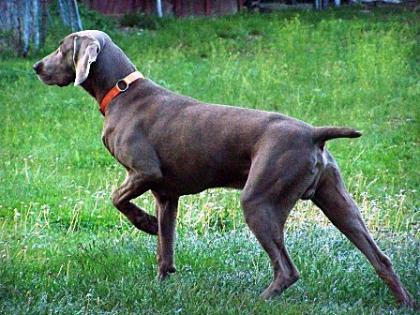 About Weimtime Kennel
We are a small breeder in S.W. Nebraska, having a litter or two litter a year. Our adult dogs are all AKC registered and hip certified..  I was 15 when I purchased my first Weimaraner, female & pure-bred but not registered. From that moment on I've been in love with the breed.  Forty plus, yes that's 40+ years later, I'm still overwhelmed and continue to be impressed with the breed.  I raise and breed the Weim exclusively to do what they were originally bred for... TO  HUNT!  I started breeding Weims when a friend was impressed with her hunting abilities and wanted a pup out of my second female.
Throughout the years I've continued to raise and breed The Weimaraner and astonishingly enough, I've been blessed and somewhat lucky in retaining the same blood-line. Weimtime's Motley Crue II "aka Motley" our current sire, is an ancestor to the first registered female I purchased back in 1988. Weimtime's Motley Crue III JD "aka Jager", Motley's 2 yr. old offspring will help continue this bloodline for many years to come.
I've sold, delivered and shipped pups to many different states, I even had the honor of sending one back to his homeland of Germany. 
When asked to describe the breed, I often tell people... 'You might be able to find a more bonding breed than the Weim... Good Luck!!  And, you might be able to find a more intelligent breed.. again... Good Luck!  However, if you combine the two traits... I don't think the Weim can be beat!!!"    Bob...
Hunting Dog Breeds Raised
Weimaraner
Additional Services
Stud Services
Breeder Contact Info
Testimonials (6)
Submitted by: Alan Dean on May 29, 2021
We got our second pup from Bob last year, 12.5 years ago we got Tiger. Tiger is in his twilight but has been to most loyal, loving dog we've ever had. Suma , now 15 months is our new baby and is equally loving and we look forward to raising him as one of us. Both dogs are amazing and we recommend anyone looking for a Weimer to Contact Bob at Weimtime.
Alan, Colorado
Submitted by: Michelle Carroll on Mar 16, 2018
We got our companion, Jager, from Weimtime in 2010. He has been an AWESOME family dog. We had two young boys, 3 and 1, when we got him and have since added two children. He is protective, playful and calm with all of them. He has been very obedient and easy to train. He goes bird hunting a few times a year and loves it almost as much as he enjoys regular runs with myself and playing with the kids on the trampoline. We cannot imagine life without this incredible dog. Thanks Bob!
Submitted by: Adam on Dec 04, 2010
I got my buddy, Cooper, from Bob and Crystal two and a half years ago and I cannot say enough how happy I have been to have gotten one of their dogs. Coop looks just like his dad, Crue, except I think may weigh a few more pounds! He's a beautiful giant! If you're looking for a dog you can hunt all day and who will give you nothing but loyalty, love, and personality then the Weim can't be beat! And I'll lay a lot of money on the line that you won't find a better looking Weim than the one you get from Weim Time. They will be getting more business from me in the years to come as I'm now a Weim owner for the rest of my life.
Submitted by: Mariah on Nov 25, 2010
We were lucky to stumble across Weimtime Kennels in a seach for the newest member to our family. Brodin has been in our life for a year and a half now and at 80lbs I can't imagine life without him. Bob and Crystal are two of the nicest people you will ever meet. My favorite times were waiting for the newest pictures of the puppies each week as we got to watch them grow until we were able to take him home. If you are looking for a great bloodline and dog personality, their weimaraner's are the best around.
Submitted by: Tony DiIorio on Nov 24, 2010
I was lucky enough to adopt one of WeimTime's pups. I have never been happier. They are GREAT dogs and I have/would recomend WeimTime to anyone looking for a weim pup.
Submitted by: Scott Tisthammer on Oct 26, 2010
I've known Bob going on twenty years, has great dogs, great line, & is a credit to gun dog breeders.
Anybody interested in a great hunting dog won't find a better line, better breeder, will have years of great hunting, & stories to last a lifetime if they buy a Weimaraner from Bob Hall at Weimtime Kennels.
Submit your testimonial