K & L Vislas - Nebraska Vizsla Breeders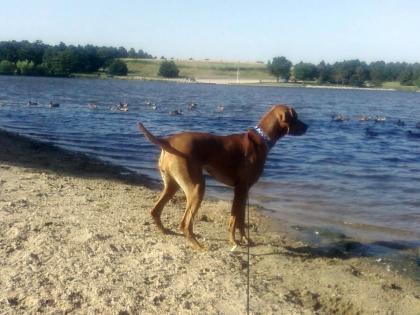 About K & L Vislas
We are a family that loves the Vizsla breed for both hunting and companionship. Our dogs are our pets and companions and all puppies are handled from birth and worked with starting at 4 weeks. We have 3 female Vizslas with excellent pedigrees, confirmation and hunting. Many champions in their backgrounds for both hunting and show.
Hunting Dog Breeds Raised
Vizsla
Breeder Contact Info
Kent and Lisa Andersen
8141 Dunrovin Road
Lincoln, Nebraska 68516
Breeding quality gun dogs for over 10 years.
Send Email to K & L Vislas
Testimonials (2)
Submitted by: Marc Lenzen on Oct 10, 2011
K&L Vizslas get a 5+++. We have purchased 3 beautiful dogs from them. Their line produces excellent hunters as well as loving couch potatoes. Kent and Lisa are very informative and extremely easy to work with no matter what part of the country you live in. We wouldn't go anywhere other than K&L.
Marc & Yvette Lenzen. Proud parents of Mady, Otto, & Sady.
Submitted by: Jason Scott on Sep 04, 2009
Kent and Lisa actually get a 6+.. The were great to work with and I have had 2 Vizsla's from them and both were great family home dogs and machines in the field. Both my Brother and Sister also got Vizslas from other breeders and they dont even compare to this breeder and the line that Kent and Lisa have.
Jason & Jamie Scott Parents of Morgan and Teaka, New Brighton, MN
Submit your testimonial