Hunting Hills Kennel - Nebraska Small Munsterlander Breeders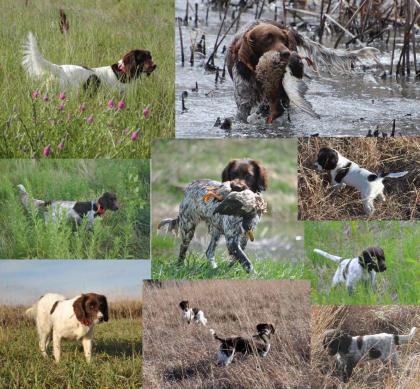 About Hunting Hills Kennel
We are Jeff and Kris Hill, breeders of a wonderful personal versatile hunting dog ... the Small Munsterlander. The Small Munsterlander also known as the Kleine Munsterlander is an elegant strong dog with much self-confidence. It is a versatile hunting dog that combines intelligence, desire, and devotion enabling him to quickly adapt to the varied terrain or game and its masters hunting style. It is also an excellent companion dog that is most happy living in the home of its master. Typical characteristics are diligent ingenuity during fieldwork, solid pointing instinct, meticulous tracking ability, great endurance-even under difficult conditions. It has a great love for retrieving and enthusiasm for water work, voice on the trail and easy handling. Small Munsterlanders can be used for agility trials, obedience, or conformation. The SM is a cooperative dog that seeks to please. When training it is important to be consistent, not overly repetitious, and teach the dog what is expected of him.

Hunting Hills Kennel was established in 1995 with the purchase of Darby vom Kreiger (OFA excellent and UT Prize I). We have trained, tested and bred Small Munsterlanders born in the US and imported from Germany and Denmark. Our goal is to breed healthy stable Small Munsterlanders that will mature into effective versatile hunting partners and family members. In 22 years of breeding SM's Hunting Hills' Kennel dogs have earned 22 NAVHDA & SMCNA NA Breeders Awards, 13 SMCNA Sires Awards. We own or have bred 5 SM NAVHDA Versatile Champions, 11 SM who have earned NAVHDA UT Prize I and 9 SM who have earned Prize II & III. This is more than any other Small Munsterlander Kennel in the US.

In addition to providing a 3 year health guarantee on all of our Hunting Hills' puppies we offer assistance in training the puppy for the NAVHDA NA test. All of our puppies are evaluated between 7 and 8 weeks of age for their conformation and temperament. We match puppies with the prospective owner's hunting or training experience and their personal lifestyle. We try to sell our puppies to hunting homes. Hunting Hills Kennel are members of the International NAVHDA, the Heartland NAVHDA Chapter and SMCNA. Our dogs have been approved for breeding by the SMCNA Breed Council.

When you purchase a puppy from Hunting Hills Kennel, you receive the following:
• a healthy SM puppy who is up-to-date with its puppy shots, worming and dewclaws removed,
• Microchipped for identification if lost or stolen,
• 3-year health guarantee,
• SMCNA pedigree which includes one year's complimentary SMCNA membership,
• NAVHDA pedigree,
• And we will assist you in any way we can to prepare your SM puppy for the NAVHDA NA Test on our farm.

Please visit our website at www.hunthills.com or www.huntinghillskennel.com. Our Facebook page called Hunting Hills Kennel at https://www.facebook.com/huntinghillskennel/?fref=ts for more information about our dogs. You can also visit the Small Munsterlander Club of North America website at www.smcna.org for more information about the breed.

At Hunting Hills Kennel, we strongly encourage the new puppy owners to test their new Small Munsterlander puppy in the NAVHDA Natural Ability test to prove the quality of hunting dog produced and prepare your puppy for your first hunting season.

Hunting Hills' Kennels current dogs are a first or second generation to European lines from Germany and Denmark. We have made sure that we have only the best breeding stock that conform to the FCI Breed Standard, are healthy, are successful hunting dogs and good companions in the home. We are committed to continuing a strict breeding practice using only the highest performing dogs in the U.S. All puppies are sold in good faith. At Hunting Hills Kennel we not only breed Small Munsterlander puppies, but we also have started SMs from time to time. Call me if you are interested in a started SM and if I do not have one at the current time, I can assist you in finding one.


Hunting Dog Breeds Raised
Small Munsterlander
Breeder Contact Info
Testimonials (1)
Submitted by: Matt Wingert on Dec 02, 2009
In July of 2008 we bought Hunting Hills Jesse (Indy) from Mrs Hill. Besides getting a wonderful puppy that turned into a outstanding family/hunting dog. We got support and advise that was very useful to us when Indy was a pup all the way though till he NA tested. He passed, 107 Prize II.
Hunting Hills will be my 1st and only call for my families future companions. Thanks Kris
Matt Wingert
Submit your testimonial