Howard's Setters - Nebraska English Setter Breeders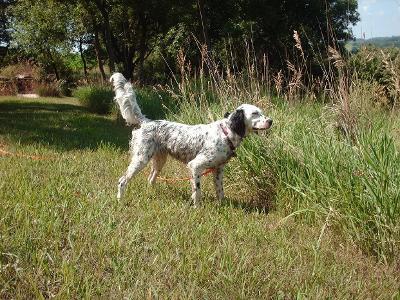 About Howard's Setters
I only breed 1 litter a year. I am a A.K.C. Hunt test judge for pointing breed . I am breeding for dogs that fit the AKC standard for hunt test ( foot handle) . I try to breed to the hunt test standards on hunting, birds, finding ability, pointing,trainability, honoring, and retrieving. I am breeding for a foot handled dog that handles and is good around all people and dogs.I train my dogs all year around. In spring and summer I train on released quail and pigeons. Summer also means water retrieves on dead pigeons ( my setters really love the to cool off on the hot summer days). In fall my setters are also used for the mentor hunt for Pheasant Forever hunts with all the kids as a guide dogs that I am a member of. In fall and winter, I hunt my dogs on pheasant, quail, and sharp tails. My setters are calm house dogs and love my grand children. Most of my dogs are sold to hunter/pet homes.
Hunting Dog Breeds Raised
English Setter
Breeder Contact Info
Our Pedigrees
Testimonials (2)
Submitted by: Chad Phillips, Phillips Gun Dogs LLC on Dec 17, 2020
I have had the opportunity to see Mark's setters over the last 8 plus years at hunt tests throughout the midwest. I have also trained with Mark and can say these dogs are the real deal for the foot hunter. Great noses, easy going, stylish as they come and natural retrievers. Definitely can't go wrong if you are looking for a English setter!
Chad Phillips
Phillips Gun Dogs LLC
Submitted by: Doug Sieckmeyer on Dec 16, 2020
Mark has excellent setters that find wild birds, plus they are CALM in the house.
I have watched Mark's dogs at AKC hunt tests. They handle well, adjust to the cover, use the wind, find birds, retrieve to hand, and are good with the family. Look to Mark Howard for a quality English Setter.
Submit your testimonial