Diamond Z Brittany's - Nebraska American Brittany Breeders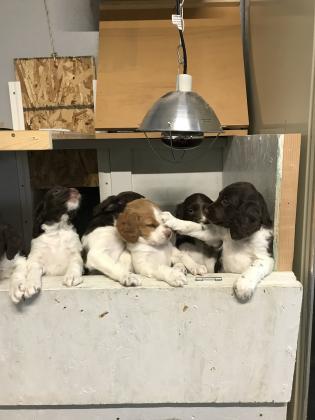 About Diamond Z Brittany's
Diamond Z Brittany's would like to announce a new litter of Brittany puppies in March, between Diamond Z's Rock & Roll Ginger Bella and Diamond Z's Shoshoni River Warrior. Parents are good hunters and Great family companions. Bella is my only female, she lives with us in the house. Bella is a great hunter with speed and biddablity in the field, and is a retrieving machine. Charlie is a good hunter and covers the ground nicely. Here are just a few dogs in their pedigrees; 2x NGDC/DC/AFC Magnum's Masked Man, DC/AFC Mashed Shoshoni War Chief JH, NC/FC Bean's Blaze, NAC/DC/AFC Renegade's Kansas Kid, NAC/DC/AFC Lobo's Cotton Candy, DC/AFC RC's Sundancer, FC/AFC Candy's Lucky Penny SH, DC Silver Lake's Wishes Blaze, NFC/FC Rambling Rose VIII, Nolan's Last Bullet, NFC/FC Rebel Jac's Hammering Hank, Diamond Z's Sir Rustic Duke, Diamond Z Ginger Bell, NFC/NAFC/FC/AFC Just Call Me Roy. These puppies should be ready for their new homes first week of May. Orange/White and Liver/White puppies are expected. If you are interested in a new best friend and hunting companion give me a call to reserve your puppy. Price is $800, a $200.00 deposit will hold your puppy. Thank you Duaine Zila
Hunting Dog Breeds Raised
American Brittany
Additional Services
Stud Services
Breeder Contact Info
Our Pedigrees
Testimonials (3)
Submitted by: Aaron Groff on Mar 14, 2021
We've had two Diamond Z Brittany hunting dogs over the last twelve years. Unreal hunters who have been perfect family pets as well. Our first, Kona, passed 300 rooster point and retrieves. Flynn is just one year old and holding pure points very, very well. Incredible instinctual hunting companions. Can't tell you how pleased we are with Diamond Z!!!
Submitted by: Jethro Koehn on Mar 03, 2021
I have had the pleasure of knowing Duane for a few years now. I got my first Brittany from him in 2011. Duane has a passion and knowledge with Brittanys that surpasses most folks out there. His dogs are his family as well as hunting partners and treated that way. If you are ever looking for a Brittany give Diamond Z a call! You will not be disappointed!
Submitted by: Brad Harm on Feb 28, 2021
Hi
My name is Brad Harm I have owned brittney dogs my entire life.
We came in contact with Duaine from a friend who had a puppy from them.
When my wife and I talked with Duaine
On the phone we knew he loved and cared for that breed. My wife and I made a trip to look at the parents and to get to know him and is wife.
They are both down to earth and honest people. We seen how well they have taken care if there puppy's and there dogs.
My wife and I wanted a female puppy and we were in luck to get one.
Her name is Sadie Jo. We got Sadie Jo in Dec 2019. Sadie Jo has been a very smart, loving, fast learner, burd hunting dog and a devoted pet.
I have been a upland bird hunter my whole life and Sadie Jo hasnt disappointed me .Sadie Jo is a wonderful dog and my wife and I wouldn't trade her for anything.
She's a great inside dog and hunter !!
Submit your testimonial