DeSeeker Britts - Nebraska American Brittany Breeders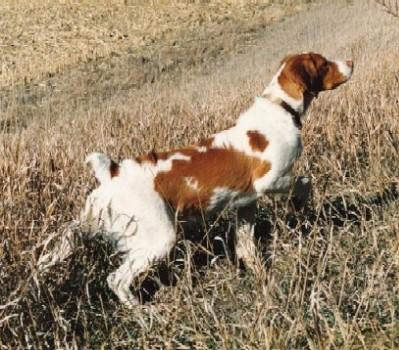 About DeSeeker Britts
I am selling my adult dogs and moving to an apartment in town in August(2021). I am out of the puppy business. Thank you to all my past clients. Doug Sieckmeyer -- DeSeeker Britts
Hunting Dog Breeds Raised
American Brittany
Breeder Contact Info
Testimonials (5)
Submitted by: Steve Bertone on Apr 13, 2017
I bought my first Brittany from Doug 14 years ago. Doug worked with me and my family to make sure the pup that came home with us would be the perfect fit for my family and I. He invited me back a number of times to help with training and just to make sure things were going well. I was so happy with that experience, I got my second Britt 5 years ago from him, and the experience was just as good. I'm now on the list for a 3rd pup from him. I highly recommend Deseeker Britts!!!
Submitted by: Shane Van Dorin on May 02, 2013
I had never owned a hunting dog before and knew nothing about dog training. Doug is knowledgeable about hunting dogs and was patient when answering all my questions. I bought my first dog from DeSeeker Britts and have been very satisfied. My dog's pedigree is phenomenal and Doug has gone out of his way to teach me how to do the dog training myself. Doug loves his dogs. You couldn't buy from a more respected breeder.
Submitted by: Lynn Balvanz on Nov 18, 2011
I met Doug about 7-8 years ago looking for a Male with good lines. Doug was very knowlegdable with what I was looking for and helped me pick out the lines to suit my needs. Since then I have having litters my selve and have contacted him about different subjects and is always willing to help out. When I am ready again to switch lines I will contact Doug for my needs and will buy from him again. Thanks for your support and kindness. Lynn
Submitted by: Chad Phillips on Nov 14, 2011
I have known doug for over 8 years, meeting him through AKC Hunt tests and Field trials. Doug has always had a kennel full of nice dogs, many of them Master hunters. I was able to work with one of Dougs dogs this last spring and was very pleased. I know that when I am ready for a quality Britt i will go to Deeseeker Britts.
Chad Phillips, Phillips Gun Dogs
Submitted by: Rodney Marchant on Jun 17, 2009
Doug is as good as it gets when it comes to breeding quality Brittanys. I met Doug when I was searching for a male Brittany nearly four years ago. He took the time to help me pick a dog that would suit my needs, and I have not been disappointed. Ron has become the dog to beat in my kennel. He hunts with the best of them and will find birds when other dogs do not.
Thanks again Doug.
Submit your testimonial