LC Diamond Kennels German Shorthairs - Nebraska German Shorthaired Pointer Breeders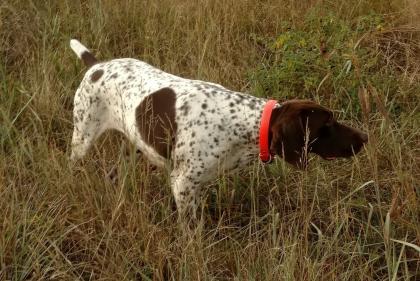 About LC Diamond Kennels German Shorthairs
Breeder of German Shorthair pointers for upland game hunting. Our dogs have great pedigrees and bloodlines with many MH and FCs. Our dogs are hunters and family dogs. You can find more info on our Facebook page, LC Diamond Kennels.
Hunting Dog Breeds Raised
German Shorthaired Pointer
Breeder Contact Info
Puppies for sale
Our Pedigrees
Testimonials (5)
Submitted by: Spence worden on Mar 13, 2017
Forgot to add that from 10 weeks jax goes out to the sidewalk and brings us the newspaper to hand no less. Pays to have a versatile bird dog
Submitted by: Bobbi white on Mar 12, 2017
We bought our German shorthair from them had a choice of 3 males we bought one named him Jax he is an exceptional dog he gets the paper every morning can sit,beg and shake hands his hunting abilities are great we joined a dog gun club and he has come in first and second in the novice category is really spoiled gets along with our 10 year old gah keeps us busy and on our toes
Submitted by: Spence worden on Mar 12, 2017
Jax is now 5 months a well marked male. Starting at 4 mo. Jax has competed in 3 all age novice bird trials with a 2nd and a 1st to his credit. A real bird finder, honors and retrieves to hand. So, how about them apples. Today I shot 7 well handled quail over him again competing with 3 other adult experienced german shorthairs. Just a hot sh** go getter
Submitted by: Kelly Stalcup on Mar 12, 2017
I got Ruger from LC Kennels in October 2015 (welped 8/31/15), Lenny was responsive when I first contacted him about a pup, and helped me narrow down my selection when I picked Ruger at 6 weeks. He was knowledgeable about the pups in the litter, their temperaments, instincts and personalities. Ruger has an excellent nose and stamina for days; he is also the most affectionate, intelligent and curious GSP I've had. He is an amazing dog and my experience with LC Kennels was fantastic!
Submitted by: Tracy Slaughter on Mar 12, 2017
LC Diamond Kennels are a great family, honest couple, & trust worthy dog breeders! My family & I are very happy with our entire experience with this company. Our Pup Franklin is very strong, easy to train,intellegent, & quit beautiful. This family blood line is proven impressive through our dear "Franky".
Submit your testimonial