Sleeping Giant Labradors - Montana Labrador Retriever Breeders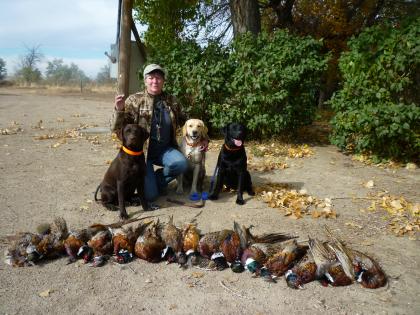 About Sleeping Giant Labradors
At Sleeping Giant Labradors we breed for quality. Our dogs have calm temperaments but are all go in the field. Health & soundness along with a strong retrieving drive is of the utmost importance to us. Therefore our dogs come from pedigrees with many generations of breeding stock chosen for their health, temperament, hunt/retrieving drive and adherence to the AKC Labrador Retriever Breed Standard. We do health testing for: hip & elbow dysplasia, PRA, EIC & CNM, & more. Eyes are "CERFed" annually. Please visit our website for more information and planned breedings.
Hunting Dog Breeds Raised
Labrador Retriever
Additional Services
Stud Services
Breeder Contact Info
Testimonials (2)
Submitted by: Leon Lilletvedt on Nov 28, 2009
I have known this breeder for about 5 years now. She is a great lover of the dogs that she breeds. I have one of the males out of the last litter. Great personnatiy, and a great hunter, brought his first live bird back at 10 weeks.
Submitted by: Ken and Joyce Burgett on Nov 20, 2009
We visited with Nola at Sleeping Giant Labradors to tell her what we were looking for in a Lab puppy. We wanted a lab with good hunting and retrieving instincts, calm, gentle, able to live in the house with us,but with enough fire to be successful in the field. Nola directed us to one of her puppies, Kala, and provided documentation of good health regarding hip/elbow dysplasia and retinal atrophy, a vet record, along with her American Kennel Club Litter Certificate and documentation of microchip placement to facilitate recovery should she become lost.
Kala has proven to be very intelligent and easy to work with both in the field and at home. She has had successful hunts for pheasant, snow geese, grouse and ducks and she is just 8 months old! Kala continues to demonstrate she is well-mannered and eager to please and is a recent graduate of Basic Obedience Training.
Nola, of Sleeping Giant Labradors, has worked with us during puppy field training in the summer and early fall. She has been great asset, and we can highly recommend her as a breeder. Ken and Joyce Burgett
Submit your testimonial