MONTANA WILDWING ROGUE WIREHAIRS - Montana German Wirehaired Pointer Breeders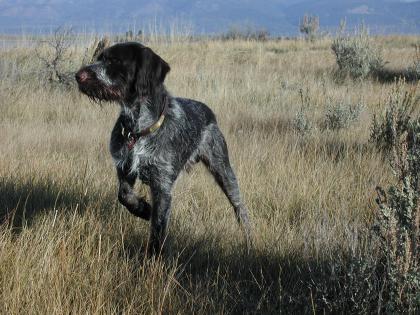 About MONTANA WILDWING ROGUE WIREHAIRS
 ANNOUNCING LITTER whelped 8/4/2018. We have been breeding and training AKC and NAVHDA regestered versatile pointing dogs for over 43 years, and have exclusively been breeding and improving German Wirehaired Pointers for more than 33 years.  Originally started breeding with strong linage of both Sire and  Dam with Cascade Rogue MH, Cascade Steamer MH, Sure Shot's Point Bland, and Sure Shot's Miss Tique NFC NAFC,FC, AFC,  breeding my original female to Duel Champion, MH,Flintlock's Go Boy, and keeping the best female out of that litter.  I have been searching, and found an AKC , NAVHDA German dog from the Wildflugel , Inverness, and the Altmoor linage.  Ultimitly strengthening the already strong natural hunting drive and retrieving ability of this breed.  Our first litter with this pair has proven to have accomplished our goal of producing the Finest German Wirehaired Pointers available.
5 females 5 male. .  Please call 406-304-9161 or 406-304-8306 (Montana) or E-mail gwphunter36@gmail.com for photos of pups and parents.  Pups are docked, & dew claws removed.  Wormed and 1 shot before they can go. 
Hunting Dog Breeds Raised
German Wirehaired Pointer
Additional Services
Lodging
Breeder Contact Info
Testimonials (6)
Submitted by: Megan on Nov 24, 2015
Ron and Suzanne were excellent resources for us since this was our first GWP. We got a female who is now 16 weeks old, Lucy. She has been sweet, good-natured, and is already pointing. Ron and Suzanne are excellent to work with and easily accessible. They pay special attention to every puppy and even gave us a bag of supplies to take home with Lucy on her first day. We are already planning to get a 2nd pup from them in the next year or two. We couldn't make a higher recommendation.
Submitted by: Jeff Mantyak on Oct 27, 2015
We bought our pup Tucker two years ago. He loves birds and is insane for the outdoors. He has a great temperment making him a real member of the family. My wife and I made an awesome trip to Superior to pick our pup and then again to bring him home. Ron and his wife were great hosts and have a wonderful line of dogs.
Submitted by: Diane Boyd on May 28, 2013
I bought my puppy, Benny, from Ron & Suzanne last fall--what a GREAT dog! Excellent companion, affectionate, very calm, yet totally 200% in the bird field. And he is a strikingly handsome dog as well. Benny loves water, points intensely, and has backed my other wirehair's points since I first brought him home. Ron & Suzanne have been easy to work.
Submitted by: Nancy Theys on May 18, 2013
Our experiance with Ron and Suzanne at Wildwing Rogue kennels was excellent. the last bird dog we owned, trained and did breeding was 35 years ago. We had German Shorthaired Pointers. My son has Labs for ducks and our daughter has a shorthaired pointer pup. We wanted to not have to borrow the kids dogs for hunting. We researched and deceided to choose the Germand wirehaired. We called Ron and Susanne and thus put a deposit on a male pup. Boy what a beautiful pup! His markings are awsome. He was pointing at 7 weeks, potty trained within a week at home and sleeps with us all night long. He is so smart and his personality is excellent! I just love him. He walks on a leash what more can I say! He will be 9 weeks next Monday. I have had allot of dogs but none like him. I am excited about showing him and more.
Submitted by: Daryl Hallquist & Anne Horn on Jul 15, 2011
Our experience with Ron and Suzanne was just the best. We picked up our GWP male a couple of weeks ago. We enjoyed seeing the dam and sire, both beautiful dogs. What we also enjoyed was the sale detail and personal attention they put into the pups for sale. Having a 15 yr. old GWP still around the home is a testimonial to the fine care they give their dogs. Our new dog from them, Boone, is a real delight.
Submitted by: roger lohrer on Sep 09, 2010
We have two dogs out of the Stortz's kennel, both out of Marsha and Boss and we couldn't be more pleased! These are the 5th and 6th wirehairs we have owned, and can say that you couldn't ask for more bidable, mellow and eager hunting dogs. both have earned prize 1 in NAVDA NA tests , with scores of 108 and a perfect score of 112. If you want so see photos or discuss Stortz's dogs, feel free to get in touch.rer
Roger Lohrer
Submit your testimonial