Long Hollow Setters - Montana English Setter Breeders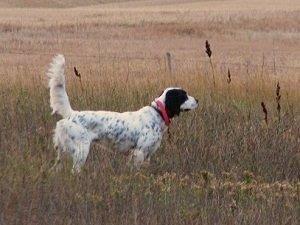 About Long Hollow Setters
LONG HOLLOW SETTERS is dedicated to the English Setter field dog.Our breeding philosophy is simple. We breed only proven individuals from the finest Setter bloodlines in the nation.

While we are avid bird hunters, we also field trial our Setters in order to select the very finest individuals to pass along the Setter tradition.
We have been breeding,hunting and trialing our Setters for over 30 years, and have many satisfied owners that would be glad to give you information on our dogs.
In addition to being outstanding bird dogs, it is important to us that our dogs also have the temperament to be companions , and become part of your family.
If you feel a Long Hollow Setter may be right for you , give us a call or e mail anytime .....

Hunting Dog Breeds Raised
English Setter
Additional Services
Hunting, Fishing, Lodging, Meals, Stud Services
Breeder Contact Info
Our Pedigrees
Testimonials (3)
Submitted by: Brian McCarty on Jun 14, 2015
I have a female English Setter "Ruby" out of the April 2015 litter of Luke and Annie. I did quite a bit of research before choosing Long Hollow Setters and I couldn't be more pleased with the quality of pup I have and the overall experience of dealing with Tim. This girl is everything you are looking for in a hunting dog/partner. She is VERY intelligent with just the right amount of playfulness in her. She is enthusiastic during training sessions and her retention and natural instinct is spot on. The toughest part was choosing which one to take home, as all the pups were quality dogs.
Submitted by: Dewey Pratt on May 10, 2011
I'm the owner of Kaiah, a female Pup from last years breeding of Luke and Suzie. I have had setters for years now and this setter is right at the top. She is very intelligent, high energy and
has been pointing birds at five months old. She is very bold dog, yet love to be very social and biddable in her training. The breeding pedigree of the sire and dame are exceptional, and I would recommend one of these setter pups to any setter enthusiast
Submitted by: Dan Leeper on Apr 09, 2011
I have a male 'Cody' out of last years breeding of Luke and Suzie. This is a great pup with lots of energy, loves to hunt and loves people. He was pointing pheasants at the age of 5 months last October 2010. Very intelligent, well behaved and works the field well either close in or far out following my commands. The breeders are great people that hunt their dogs.
I would highly recommend a pup from this breeding.
Dan Leeper
Submit your testimonial