Eaglerock Kennel - Montana English Springer Spaniel Breeders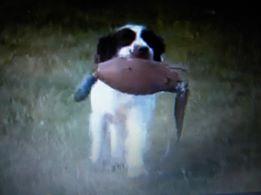 About Eaglerock Kennel
Eaglerock Kennel is home to hunting /performance  Field Bred English Springer Spaniels, Obedience titled Shetland Sheepdogs and  Champion Comformation Great Pyrenees that also are great guardians of our horses. (We no longer breed Pyrenees) We are also home to Brickyard Boarding Kennel that is your home away from home for your dog or cat. grooming is also available. We have been in business 22 years and the last 12 years we have had our Springers.We breed one or two litters a year only. call for limited availability. Current pictures of our dogs,and breeding plans can be found on our FB page www.facebook.com/eaglerock.community/ and on our website http://springcorgis.wixsite.com/eaglerock-kennels/home
Hunting Dog Breeds Raised
English Springer Spaniel
Additional Services
Boarding
Breeder Contact Info
Our Pedigrees
Testimonials (1)
Submitted by: Charlotte Crosswhite on Jul 24, 2009
We've gotten 2 Great Pyrenees and one Shetland Sheepdog over the last 9 years from Kalyn. The two Pyrs are (and were one has passed on) the most gentle dogs. But, both know their jobs and patroled the properties on instinct alone. Absolutely stunning gentleness with people. EXCELLENT guardians.
The Shetland Sheepdog was purchased for my then 9 year old daughter for the 4-H dog project. Gorgeous little Sheltie. Calm, right on track. It was the perfect dog for a young child to start 4-H with. Today, my daughter and the Sheltie had a clean run at fair. Now 14, my daughter can't imagine life without her Sheltie. People are constantly praising the coat and looks of this little Sheltie. She is a Canine Good Citizen and is a huge hit wherever she goes.
This breeder was right there anytime I needed to talk to her. She never wavered on advice, and has always been encouraging whenever I've needed information.
I would recommend this breeder's lines to anyone. She works at getting the best traits in her lines for the type of breed she is breeding.
You are awesome Kalyn!
Charlotte Crosswhite
Helena, Montana
Submit your testimonial