Stellar Vista Kennel - Missouri Wirehaired Pointing Griffon Breeders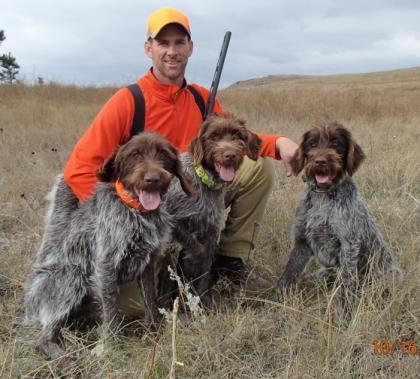 About Stellar Vista Kennel
Stellar Vista is a small, family operated farm and kennel.  We believe a quality versatile hunting dog should have high desire and natural ability, yet an excellent disposition for easy training by the amateur handler.  Our Wirehaired Pointing Griffons make perfect family companions in the house or hunting field, and thrive on close contact with their family.  They are affectionate, very cooperative, and enjoyable to be around and are natural swimmers and retrievers.
Our dogs are excellent versatile hunters and come from exceptional NAVHDA, CKC, and AKC registered lines.  We believe in raising the right dogs for the right reason, producing litters only when breeding for improvement or intended purpose.  If you are looking for high powered, uncontrollable dogs that like to hunt for themselves and can't lie still in the house or truck, our dogs are not for you!!!
Hunting Dog Breeds Raised
Wirehaired Pointing Griffon
Additional Services
Stud Services
Breeder Contact Info
Puppies for sale
Our Pedigrees
Testimonials (6)
Submitted by: Dennis Lavigne on Oct 14, 2021
I got my dog "Rufus" from Steve I live in Alaska and never owned a griff before. By 14 weeks he was getting ducks in the wetlands he instantly had a nose. This fall he was 17 months old and literally now he's doing 70-100 yard blind retrieves on ducks and geese in 38 degree water. I also had him on a moose hunt this year with me. and what can I say he was on 5 separate moose kills this year he was amazing in the airboat noise never bothered him. I am no dog trainer but like Steve told me you don't teach a griff how to hunt. they already know. you teach them how to hunt for you. I take him everywhere ocean fishing to hunting. He is the most calm dog around the house around the kids I ever seen. I can't say enough about him. I would strongly encourage any one looking to look no further then Steve
Submitted by: Steven Dyke on Sep 21, 2018
I got Barrett last year and I couldn't ask for a better dog. Very good with kids and a great hunter. Got a prize 1 112 score in the NA test at 8 months old. Was shooting birds over him before he 4 months old. You couldn't ask for a better person to deal with than Stephen.
Submitted by: cheryl ruiz on Jul 02, 2018
We got our Beauregard from Steve two years ago. Our pup is awesome NA prize 1 perfect score of 112. Steve is an awesome responsible breeder who will answer any question you have his passion and knowledge is well appreciated and he will share that with you whenever you need it!! I couldn't have asked for a better experience in acquiring a pup from him and have made a life long friend!
Submitted by: Jerry Courtney on Jul 29, 2014
Got Taz from Stellar Vista in Feb of 2011, 3 years later and I couldn't have asked for any more. Exceptional upland and waterfowl hunter, and if possible, an even better family dog. Stephen was great to work with.
Submitted by: Guy Young on Nov 03, 2013
Steve was great and sold me a great dog! Couldn't have asked for a better experience. He's the best and I would highly recommend him!
Submitted by: Jake Winter on Oct 10, 2013
Steve was great to work with. He really knows what he's doing, very friendly, and couldn't have asked for a better experience or dog.
I would HIGHLY recommend him to anyone looking for an exceptional Griffon.
Submit your testimonial