SMOKIN GUN KENNEL - Missouri English Setter Breeders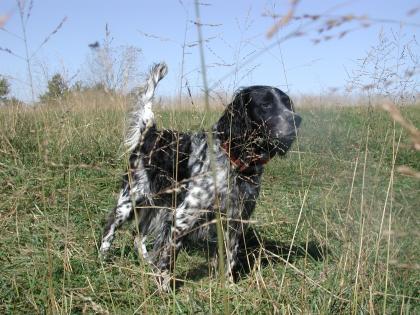 About SMOKIN GUN KENNEL
Smokin Gun Kennel is a small kennel filled with English Setters that are our private hunting stock. We are not a puppy mill but do raise a litter or two every couple of years. We are in the market to put good hunting dogs on the ground for people to enjoy and have a great companion to go to the field with. Nothing makes us happier than to place a new puppy in the hands of a young person who is just getting started in the bird hunting sport. Our youth is the next generation of bird hunters that are going to fight to keep our hunting heritage alive. We are firm believers that there are no dumb dogs out there, good hunting dogs are born with the natural instinct to hunt, it's up to the trainer to bond with and mold the dog into the master hunter that all dog owners long for their hunting companion to be. Really! It's the trainer that is the dumbie if the dog does not do well. Not because the dog is dumb and not because of lack of will on the dogs part, but maybe lack of patience on the trainers part.Ask yourself before you get a puppy; Am I willing to give this puppy my time and patience to make him not just good, but GREAT?
Hunting Dog Breeds Raised
English Setter
Additional Services
Training, Stud Services
Breeder Contact Info
Testimonials (2)
Submitted by: Daniel Williams on Mar 28, 2009
Larry is one of the finest setter men around , knows the breed very well. I had went up to his kennel to purchaes some new blood for my kennel , purchased 2 fine one year old males from him , and they are great hunters with perfect noses and fine looking points.
Submitted by: Jim Scott on Jan 11, 2008
I purchased a yellow & white puppy from Larry and had it trained by John Hahn of Kidder MO. I will say that it is the best hunting dog I have ever owned. It is well manered, hunts great, retrives to hand and has a better than average nose. It is also a family dog and wants nothing more than please. My wife said I should have bought another one if we would have known how well Lemon was going to turn out.
Submit your testimonial