Krieger Deutsch Drahthaars - Missouri Deutsch Drahthaar, German Wirehaired Pointer Breeders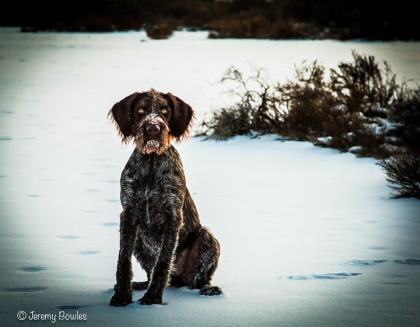 About Krieger Deutsch Drahthaars
We've been knee deep in the hunting dog world since 2001. After many years of selecting, breeding, and training National Champion field trial dogs we set out to find the perfect all-around hunting partner. The Drahthaar is just that! The Drahthaars that we produce can point better than most pointers, retrieve better than most retrievers, track better than most scent hounds, AND be your best friend in the home or kennel. These dogs are perfection!

Years of selective breeding has given us the experience and insight to breed Drahthaars of the highest quality available anywhere. From conformation and coat, to performance and disposition, our Drahthaars are well balanced and have it all!

At Krieger Drahthaars we pride ourselves in care AFTER the sale. From the day you put down your deposit to the day your dog hunts in heaven we will be just a phone call or email away for any training, health, or other questions you may have. There's nothing we love more than seeing our dogs successful in their new homes, and nothing we'd hate to see worse than them not being everything their owners would want them to be. Other breeders may claim to offer this kind of service and care, but very few actually do!

Hunting Dog Breeds Raised
Deutsch Drahthaar, German Wirehaired Pointer
Additional Services
Hunting, Training
Breeder Contact Info
Testimonials (0)