Big Gun Kennel - Missouri Vizsla Breeders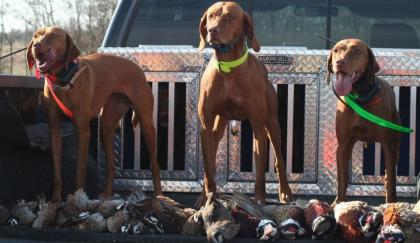 About Big Gun Kennel
We breed Vizslas only when we think we are improving the breed, both parents have OFA certifications, they also have titles in the field because that is what vizlsas are supposed to do.  Our vizslas are great family companions, but will also hunt all week long because that is what they love to do.  All puppies are exposed to birds by 6 weeks of age and come with a health guarantee.  All of my dogs are OFA Excellent or Good and DNA profiled.  My Vizslas are also registered AKC and American Field. Please don't hesitate to call with any questions you may have. Also feel free to check out our website for pictures of Bullet, Bling, Boots and Swagger.                                          
Hunting Dog Breeds Raised
Vizsla
Additional Services
Stud Services
Breeder Contact Info
Our Pedigrees
Testimonials (3)
Submitted by: Stephanie Fidler on Jun 12, 2013
Jarrett and Allison Bell are great breeders. They are honest and open about their dogs, who are amazing natural hunters. They also are fantastic companions. Overall great experience with the Bells and would highly recommend them.
Submitted by: Justin Hess on Jan 01, 2013
Jarrett is much more than just a breeder. He takes improving the breed as a top priority. We have Koda which was from Tikka/Bullets first litter. I can not stress how pleased we are with her. She is the perfect mix of house dog/hunter. We also compete her in DockDogs. I've had a number of Vizslas in my life and I would never go anywhere else for a pup. If fact we are so happy we have a deposit down on this coming litter. Thanks Jarrett/Allison for being so helpful over the years!
Justin Hess
Team Red Dog
Submitted by: Vincent Tuttle on May 10, 2011
Jarrett just wanted to write a few lines to thank you for selling the best dog I have ever owned,but don't tell her I called her a dog she has no idea she is not a human. Riley is a wonderful companion, a calm easy going lay in your lap house dog that turns in to a hard running super fast bird finding machine in the field with a great prey drive everything you said she would be. Riley earned her Junior Hunter Title at 10 months of age with great scores on the card. I want to also thank you for requiring a Junior Hunt Test Title because it got going to hunt test and field trials again which we love doing. Thank you for doing your part to protect the bloodlines and the Vizsla breed. I will do the same in the future.
Submit your testimonial