Suma German Shorthaired Pointers - Missouri German Shorthaired Pointer Breeders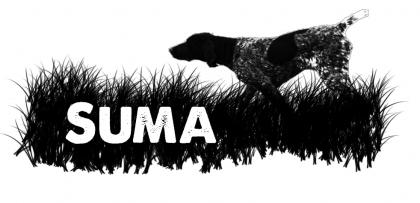 About Suma German Shorthaired Pointers
SUMA

"Pride in Performance"
For the Ring - For the Field - For the Fancier

Puppies available occasionally to the prospective German Shorthaired Pointer owner who is looking for the "all around" dog. We strive to breed to the AKC standard and our dogs compete in AKC Conformation events, Hunt Tests, and we occasionally participate in NAVHDA events. All proposed breedings and potential sires and dams must have passed all GSPCA suggested health tests - OFA Hips, Elbows, CERF (eyes), cardiac and Cone Degeneration (heriditary eye test). We are lucky to have owned generations of AKC Champions, and now starting on several proven dogs in the field - ranging from grouse/woodcock hunting dogs in the northwoods to pheasants and quail in the plains.


Please view our website or call/e-mail for puppy availability.
Hunting Dog Breeds Raised
German Shorthaired Pointer
Additional Services
Training, Stud Services
Breeder Contact Info
Testimonials (5)
Submitted by: Rob on Aug 14, 2018
Jessica helped me train both of my Gordon Setters to finished level. My oldest is now 7 and the puppy will be 2 this fall. She took a very personal approach to my dogs and it was not a one program fits all style of training. She let me come out and work both my guys with her and showed me how to handle them. Definitely a 5 star recommendation for anyone wanting a good trainer. Very professional but also enjoys her job and the dogs.
Submitted by: Chris on May 25, 2015
I recently got a GSP puppy from Jessica last summer. BEST DOG I have ever had, I always call and tell Jessica how happy I am that I waited for a puppy instead of finding another breeder. She took the time on the phone, answered all my questions, and was fair with myself and my wife when it came time to pick the puppy. She "fit" the puppy to our family's lifestyle (we wanted a dog we could hunt with but also be a good house dog) and I have to say Buck is a smart dog who loves to please. Potty trained quick at a young age and loves the birds! I enjoyed hunting late season grouse over him last winter. For a young dog he has a great nose and I can only look forward to years of more hunting. I think it helped that Jessica put the puppies on birds young before Buck left to come home because my last shorthairs did not have the prey drive and this makes his field training easier!
Submitted by: Tom and Kelly Koble on Feb 21, 2013
Jessica could not have been nicer to work with. She helped us start us and our guy and we have 3 out of 4 JH titles under our belt.
Submitted by: Ben Klosser on Jan 14, 2010
I have taken my wirehair to work with Jessica, and she has done a wonderful job. She puts a lot of work and effort into your dog and just as much into her's, and she prides that. She sent my dog and I home with "homework" every week to help get training rolling. I haven't had a chance to take my dog hunting this fall because he's just a pup, but I look forward to the next season!
Thanks Jessica!
Submitted by: Mark Hoefmann on Nov 18, 2009
I have had the opportunity to take my dog, Spruce (English Pointer) to see Jessica. Her approach to dogs is something I have never experienced. Full of energy and excitement, she is clearly passionate in all she does with her own dogs. Within a few weeks of working my dog with her, it was clear to see that my dog was enjoying days out in the field with her. I have never seen my dog so happy to get in a truck, to be honest. Spruce had a blast with her, as did my wife and I.
I grew up hunting over Labs, and when we got Spruce as an older dog, I had no idea what I was doing! Not only did she bring out the best in my dog, but she brings out the best in hers. She reads dogs like a book, there is no guess work involved with her. You tell her what you would like to see, and she tries hard to get the results you want. She explains thoroughly what is doing with your dog, even if you have no idea. Definitely worth an hour of anyone's time to sit down and talk to her. Calling her and talking to her was perhaps the best thing I have done for myself as an owner and for my dog.
Submit your testimonial