Hardwood Kennels - Missouri German Shorthaired Pointer Breeders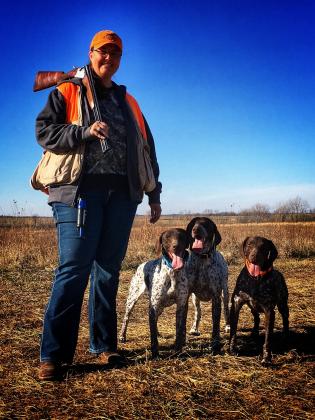 About Hardwood Kennels
Training, show, and boarding kennel for all breeds.  AKC Hunt Test and Conformation Show Training and Handling available (evaluation required for suitability for competition).  Located north of the Kansas City Airport.  Specializing in German Shorthaired Pointers and Labradors.  Stud service also available.  Puppies occasionally available.  E-mail or call for more information.   Currently taking dogs for this training season. We are also a Nu-Vet Plus distributor. Check out our website for more info about this AMAZING product!
Hunting Dog Breeds Raised
German Shorthaired Pointer
Additional Services
Training, Stud Services, Boarding
Breeder Contact Info
Testimonials (3)
Submitted by: Nathan Duncan on Oct 25, 2020
Sheena trains all our dogs and all our friends dogs. It's a 100% success rate even with GSPs others have given up on. She knows GSPs in and out I wouldn't hesitate to get in touch with her it's been nothing but complete satisfaction working with Sheena.
Submitted by: Bruce on Feb 13, 2014
What more can I say…. I have The Real Macoy from Hardwood Kennels. This is my second GSP and I couldn't be happier. Working with Sheena has been great from the beginning well before the litter was born. Sheena is not only a great breeder she is a great trainer of dogs. It is absolutely amazing watching how the dogs respond to her. Both the hunt and show training are first class.
Macoy is a super looking dog with a great disposition. He is great around adults, kids, and other dogs. Macoy is super smart, energetic, and very healthy, very birdie, and did it mention super good looking. He is only eight months old and has earned six points in first to shows towards his Champion title. Wow!
If you want a great GSP and great training (hunt or show) from someone who truly loves dogs and likes what they are doing, then Sheena at Hardwoods Kennel is who that you need to talk too.
Submitted by: Adam Fogel on Feb 10, 2014
Had an absolutely amazing 5-star experience buying my GSP from Hardwood Kennels. I was in contact with Sheena and give them my strongest recommendation. I'm both a first time GSP owner and I live outside of Missouri so I had a lot of questions and there were a lot of logistical issues that had to be taken care of. Hardwood took care of everything flawlessly.
I spent a lot of time looking for the right breeder because I wanted a show quality dog.. and that's exactly what I got. It's impossible to leave the house without someone telling me how beautiful Beck is or stopping to take a photo of him. In terms of personality he's curious, kind, loving, confident, energetic and very smart. It's been about 4 months and he hasn't shown a single sign of aggression towards other dogs, he's very playful. Can't imagine getting a better dog.
Hardwood is extremely knowledgeable and truly care about their dogs and their customers. If you're serious about buying a dog, this is the place.
Submit your testimonial